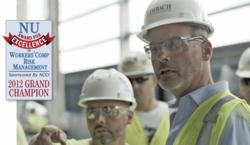 We want people to choose to be safe instead of being told to be safe.
Pittsburgh, PA (PRWEB) September 12, 2012
Limbach Facility Services LLC, an industry-leading specialty contractor and maintenance firm, is pleased to announce that it has been recognized by "National Underwriter Property and Casualty" magazine as this year's Grand Champion of "National Underwriter Award for Excellence in Workers' Compensation Risk Management."
The award program is sponsored by the National Council on Compensation Insurance and spotlights organizations for their outstanding approach to workers' compensation risk mitigation.
Scores were awarded in ten separate categories, including innovation, loss control, claims management, return-to-work, technology and relationships with key partners (carriers, brokers and third party administrators). National Underwriter's editorial team determined the group of finalists from a record number of total entries, as well as a record number of entries from Fortune 500 companies. In winning this year's award, Limbach was said to have stood out for the tremendous savings their unique approaches to workers' compensation risk management have generated, the commitment of their senior executives to safety, and the degree to which their programs not only reduce costs, but also contribute to their strategic organizational goals.
With these strategic goals in mind, Limbach's management shares this outstanding recognition with all employees who drive their Incident & Injury Free Safety Program (known as "IIF"), and who live out Limbach's "We Care" culture.
Limbach is an industry-leading provider of sustainable building solutions, focusing on innovative and cost-effective HVAC systems. The Company offers building owners, general contractors and construction managers a broad range of comprehensive energy-saving options, helping them identify and implement key ways of reducing operational expenses for new construction and building renovations. Limbach's engineers remain at the forefront of green building technologies and practices, enabling a rapid commercialization of these techniques for the benefit of its customers. Its primary markets are Healthcare, Education, Biopharmaceutical, Central Utility Plants, Hotels, Apartments, Museums & Offices.
Active since 1901 and headquartered in Pittsburgh, PA, Limbach strives to be the first choice specialty contractor and service firm in the 24 regional markets it serves in the United States.
Learn More at http://limbachinc.com