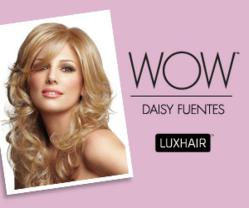 As a model, I've come to value the ability to change a hairstyle easily as changing a pair of shoes
Dallas, TX (PRWEB) September 11, 2012
Only available at Wigs.com, LUXHAIR™ WOW™ is a wig and add-on collection created by model and international television personality, Daisy Fuentes. Her long career in the fashion world has given her special insight into the industry's most coveted beauty secrets, which she now wishes to share with women everywhere.
"As a model, I've come to value the ability to change a hairstyle easily as changing a pair of shoes," says Fuentes. From modern bobs to sexy long styles, this 7-piece hair collection is filled with classic pieces that represent Fuentes' aesthetic. Beautiful hair is part of Daisy Fuentes' life and now she hopes women get to experience a little bit of glamour easily.
Wigs.com had the unique opportunity to interview celebrity Daisy Fuentes to learn more about her hair collection. The video is available to view exclusively at Wigs.com. WOW™ is one of three LUXHAIR™ brands created to make wigs and hair extensions a staple within the everyday beauty routine. Fronted with a celebrity name, LUXHAIR™ hopes to create a community of women, both live and virtually, who proudly "wear hair" everyday.
About LUXHAIR™:
LUXHAIR™ shows women "HOW" to create "WOW" hair moments, "NOW" with a full wardrobe of fashion forward wigs, add-ons and extensions. Each line, LUXHAIR™ NOW™ by Sherri Shepherd, WOW™ created by Daisy Fuentes and HOW™ created by Tabatha Coffey, offers a full wardrobe of styles, cuts and color options. These are the perfect accessories to experiment with the latest celebrity hair trends without the commitment -- easy-to-wear, accessible and fashionable hairstyles for any woman. LUXHAIR™ collections all use the proprietary and innovative LUXHAIR® Keralon™ synthetic fiber which has an amazing natural feel plus is easy to style.
About Wigs.com:
For more than 15 years Wigs.com has been focused on wearable hair. It has established its name as the best source for alternative hair and related products. In doing so it has separated itself from the competition with the expertise and education offered to the public. Celebrity lines such as Raquel Welch, Jessica Simpson, Vivica A. Fox, Beverly Johnson and many others have partnered up with Wigs.com because they acknowledge their superior experience and expertise.