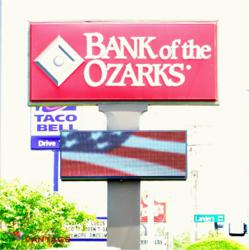 "We're glad to have a partner who matches our desire to deliver the best Made in the USA product at a competitive price."
Little Rock, AR (PRWEB) September 24, 2012
With ever increasing costs for advertising and the difficulty to ensure messages targeted to a local market reach the community, Programmable LED signs are increasingly becoming a solution for businesses to succeed. Ace Signs of Arkansas is proud to announce their new partnership and look forward to a bright future, powered by Vantage LED.
Since 1946, ACE Signs of Arkansas has been delivering quality commercial signage solutions. They are national in scope while still paying close attention to the local community. In 2005, they continued a long-standing legacy of advancing technology and were the first sign company to introduce LED signs to the Arkansas market. Their desire to continue as a leader of new technologies took them into a partnership with Vantage LED, a Corona, CA based LED sign manufacturer.
"We focused on LED displays when many others were hesitant to enter the market. We continue to lead the way with content creation programs and working to ensure our customers receive the best programmable LED sign systems," stated Jason Offutt, owner and President of Ace Signs of Arkansas.
During hard economic times, Ace Signs of Arkansas delivers solutions to help businesses thrive in an ever increasingly tight market. They were the first to initiate a shopping center program allowing the various tenant-businesses to advertise on a high definition LED display. The display allowed the businesses to truly shine for their customers and communicate more effectively with the local community.
When asked about his decision to partner with Vantage LED, Offutt stated, "Many manufacturers are outsourcing work to China, even businesses which once were proud to be Made in the USA have taken business overseas. Vantage LED is going against the trend and bringing the manufacturing back to the USA."
Offutt has worked with various manufacturers and has seen the best and the worst of the industry. Ace Signs has learned through experience to be self-sufficient, going so far as to carry stock components in-house and ensuring their technicians are fully versed in supporting programmable LED displays. A benefit of the Vantage LED partnership is having a partner willing to step up where others had left off. When asked about Vantage LED's technical resources Offutt replied, "Vantage LED has been great on assisting with technical support, even going so far as to assist us with other manufacturer's systems when we had to deal with a failure from a manufacturer who was no longer in business."
ACE Signs of Arkansas takes pride in their high level of customer support and bucks the trend of short-term warranty programs by offering a five year parts and on-site labor warranty to give their customers assurance the systems will perform at their best. "Having a single point of contact with fast service and support is our standard for customer service and we expect the same from our partner. It's great working with Vantage LED where I have a direct line of communication with the CEO and an American made product," said Offut.
Keeping up with technical trends can be difficult and often software for programmable LED displays can be complex and hard to manage. Offutt was pleased to find Vantage LED to be on the leading edge of innovation in both the hardware specifications as demonstrated by the Darwin Control system™ and their ever evolving and easy-to-use LightSpeed™ Media software.
Offutt's initial impression of Vantage LED was reinforced with the recent completion of a full color Electronic Message Center installation for Ozark bank. This was the bank's first experience with using the new technology and ACE Signs was there every step of the way to ensure the integration of the new technology was a smooth and easy one for the business. "We have a talented team of designers, engineers and technicians who are able to control quality and cost for our projects. We're glad to have a partner who matches our desire to deliver the best Made in the USA product at a competitive price."
At the end of the day, the decision to partner was an easy one. Offutt looked at the competition in the market and said, "A lot of companies are buying cheaper systems and pushing on price. We [ACE Signs of Arkansas] are proud to sell quality American Made product and we constantly work to educate our customers on what makes up a great system so they can avoid making the mistake of buying something which will fail them later."