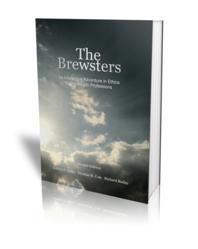 "An ingenious method to turn everyday readers into moral thinkers."~ Randy Cohen, for twelve years the writer of "The Ethicist" in the New York Times magazine
Houston, TX (PRWEB) September 18, 2012
It isn't easy being Wayne Brewster. Wayne fears he has osteoporosis, a disease common to women but rare in men. After his son drives drunk into a tree, Wayne discovers his wife contracted a sexually transmitted disease having an affair. Then, Wayne's mother is diagnosed with cancer.
Although being Wayne Brewster isn't much fun, playing Wayne Brewster can be very educational. The Brewsters is a fictional story of a family receiving health care written as a choose-your-own-adventure novel. Readers inhabit the roles of patients and family, their healthcare providers, and scientific researchers, all running a gauntlet of ethical dilemmas. Textbook chapters connect the story to principles of professionalism, clinical and research ethics.
The Brewsters is a project of the McGovern Center for Humanities and Ethics at The University of Texas Health Science Center at Houston (UTHealth) Medical School. The interactive novel was originally written for incoming UTHealth students at all of its schools: biomedical informatics, biomedical sciences, dentistry, medicine, nursing and public health. Now the book is available to readers everywhere in paperback and as an eBook.
A "Novel" Approach to Interprofessional Healthcare Ethics
The Brewsters may be dramatic fiction, but it's a realistic portrait of healthcare from patient and provider points of view. "We wanted to imprint ethics' personal dimensions on first-year health profession students," says Tom Cole, PhD, one of the book's authors, "not simply fill them with facts." Co-author, Jeffrey Spike, PhD, notes, "It's what we call 'active learning,' and it's quite different from the classic, passive learning approach." The book is half storytelling and half didactic instruction. The narrative unfolds in three acts, each followed by chapters addressing ethical challenges story characters faced.
Producer and co-author Richard Buday, FAIA, notes, "We designed the book like an immersive video game. Interactive stories create the illusion of life, and that allows learning through personal experience."
According to Dr. Spike, UTHealth students' test scores improved significantly after the The Brewsters was introduced into a first year ethics course. "We measured campus-wide ethics knowledge in 2009, well before writing The Brewsters," he says. "On a scale of 1 to 5, from 'Insufficient' to 'Exemplary,' we were barely above 1." Things are different now. "We are still collecting post test results, but average scores in one of our health profession schools has moved above 3, to 'Proficient.'"
UTHealth students have given the book rave reviews, as have health ethics teachers at other academic centers. The novel won First Place at The University of Texas System's Innovations in Health Science Education conference in Austin, Texas this year. The book was also well received in April 2012 at the Second Cambridge Consortium for Bioethics Education in Paris, France.
Buday feels The Brewsters is a great read, and one that doesn't require a health professions background to enjoy. "Anyone interested in healthcare, ethics, or who simply enjoys a gripping medical novel will be captivated."
###
About the authors
Jeffrey Spike, PhD is the Sam Karff Professor at the McGovern Center for Humanities and Ethics, and Director of the Campus-wide Ethics Program at UTHealth. A longtime medical educator, he coordinates the integration of ethics into the curricula at all six UTHealth schools. Dr. Spike has been interviewed by prominent media across the country and has published over 50 articles, book chapters, book reviews, editorials, and commentaries in journals such as Annals of Internal Medicine, the Journal of Law, Medicine and Ethics, and the Journal of Clinical Ethics. He is on the Editorial Board of, and a regular contributor to, the American Journal of Bioethics and a new journal, Narrative Inquiry in Bioethics.
Thomas Cole, PhD holds the McGovern Chair in Medical Humanities and serves as the founding Director of the McGovern Center for Humanities and Ethics at the UTHealth Medical School. While working in the fields of medical humanities, humanistic gerontology, and cultural history for the majority of his career, he authored, edited, or coedited ten books, including "What Does It Mean to Grow Old?," "The Oxford Book of Aging," "No Color is My Kind: The Life of Eldrewey Stearns and the Desegregation of Houston," "Faculty Health: Physicians, Scientists and the Pressures of Success," and "Guide to Humanistic Studies in Aging." His book, "The Journey of Life: A Cultural History of Aging in America," was nominated for a Pulitzer Prize. Dr. Cole is also a creator, producer, or co-producer of documentary films, including "The Strange Demise of Jim Crow," "Life Stories," "Still Life: the Humanity of Anatomy," and "Stroke: Conversations with Couples." He is currently co-authoring a textbook, "Introduction to Medical Humanities," for Cambridge University Press.
Richard Buday, FAIA is president and founder of Archimage, a 30-year-old design studio. A professional architect by training, Richard and his firm have won more than 50 international awards for design, including: broadcast television commercials, illustration and graphic design for corporate identity, magazine covers and print advertisements, websites, and serious video games. Richard has written extensively on the use of video games in healthcare and is widely published in peer-reviewed scientific journals.
The Brewsters is available on the Apple iBookstore (ISBN 978-0-9854858-0-1).
The book is also available at Amazon.com, other fine booksellers worldwide (ISBN 978-0-9854858-2-5), and at education discounts through its publisher, Archimage, Inc.
For more information
Richard Buday, FAIA (RBuday(at)Archimage(dot)com), 713-523-3425
http://www.MeetTheBrewsters.com