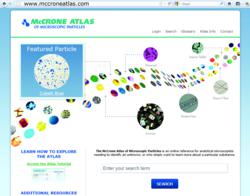 The Atlas has been a useful resource to scientists around the world.
Westmont, IL (PRWEB) September 11, 2012
The McCrone Group Inc., internationally recognized as a world leader in microscopy and microanalysis, announced today that the "McCrone Atlas of Microscopic Particles," a comprehensive online particle reference resource at http://www.mccroneatlas.com/, is now available to the public for free.
The McCrone Atlas, formerly available only by paid subscription, is a reference tool to assist scientists in the identification of unknown particulate samples. It is the first comprehensive web-based particle reference source for scientists, microscopists, and criminalists engaged in materials analysis and identification. Science educators may also use the McCrone Atlas in classroom learning.
The website has been redesigned to help visitors locate information more quickly, and to streamline the free user-registration process.
"The Atlas has been a useful resource to scientists around the world. We hope the recent updates and free registration will expand its use, especially for educators who can use it in the classroom," said David Wiley, president of McCrone Associates, Inc.
The fully-searchable Atlas offers detailed particle characterizations developed by McCrone's renowned team of microscopists and scientists. Locating materials of interest is easy and intuitive using the advanced search tool. Each particle is presented within the "characterization viewer," a robust tool organized by a tab system that includes detailed written descriptions along with micrographs and spectra from PLM, SEM, EDS, TEM, SIMS, XRD, FTIR, and RAMAN analysis. Text write-ups include hyperlinks to glossary terms, related particles, and instrumentation descriptions. On average, each online material characterization includes photomicrographs and/or electron micrographs. Each particle characterization is subjected to a peer review process to ensure the accuracy of the published information.
Additional features of the online Atlas include printable particle characterizations for laboratory reporting, full-screen photomicrographs and electron micrographs, an interactive spectral viewer for viewing EDS, FTIR and Raman spectra, personalized sample libraries, and a column highlighting particles and additional microscopy techniques.
About The McCrone Group
Founded in 1956 and located in Westmont, IL, The McCrone Group, Inc., is a world leader in materials analysis and is internationally recognized as the premier microscopy resource. The Group is comprised of three business units: McCrone Associates, Inc., provides analytical services to solve challenging materials issues; McCrone Microscopes & Accessories, LLC, provides technical guidance and instrumentation to equip laboratories; and Hooke College of Applied Sciences, LLC, provides microscopy and microanalytical training to industry and government scientists worldwide. For more information about The McCrone Group, visit http://www.mccrone.com.