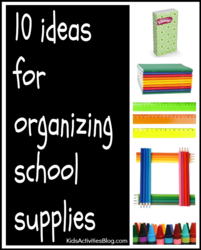 How to organize for school
Dallas, TX (PRWEB) September 14, 2012
It is school time again and with that comes a lot of stuff. How to Organize for School answers shows some of the newest and most creative solutions for school supplies.
Back to school organization requires a wrangling of all those supplies that were purchased just a few short weeks ago. Wayward pencils and incomplete sets of crayons need a home. It is time to get it under control.
One idea is to create a school closet or school cabinet. This is a place in the house where all the supplies live and everything has a place. Backpacks can be emptied and left there. The closet doors can be shut closing off the mess from the rest of the house. A school supply closet can use ordinary household items like shoe boxes re-purposed to an organizational calling.
Classrooms are also a place where organization is required to prevent chaos. Several classroom organization plans were found to assist teachers in creating a resting place for all of the student's items.
Homework is easier when organized. Creating a homework caddy for children to grab school supplies when studying can help decrease homework stress.
Pencil boxes don't have to be boring. We found some of the best DIY pencil boxes to organize even the most disorganized child. Organizing school supplies is a snap with these unique boxes and bags.
Don't forget the teacher. School supplies and organizational aids make great back to school gifts. Keeping both home and school organized can help kids learn organizing skills themselves.
Kids Activities Blog is staying organized with all sorts of fun back to school ideas. Each day Kids Activities Blog publishes fun kid activities slanted toward learning assisting parents and teachers in making learning for kids fun.