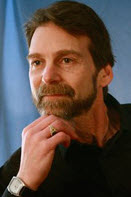 San Francisco, CA (PRWEB) September 11, 2012
Saybrook University alumnus and faculty member Kirk Schneider's place as a leading voice in existential psychology has been affirmed repeatedly by American academic organizations including the American Psychological Association.
This month, as he delivers the keynote address to the 7th annual conference of the East European Association for Existential Therapy, Schneider will receive international recognition as well.
The conference, held in Lithuania and attended by leading existential therapists from the U.S., Europe, and Eastern Europe, will award Schneider an honorary diploma after he speaks on "Existential -Integrative Therapy: Awakening to an Awe-Based Psychology."
"I am humbled and honored to receive this Honorary Membership Diploma from the East European Association of Existential Therapy," Schneider said. "Ever since our first meeting at the First Soviet-American Humanistic Psychology conference in Moscow in 1991, I have seen East European existential psychology blossom in Lithuania, Latvia, Russia, Belarus, Poland, and other nearby regions."
The author of many highly regarded books on psychological theory and practice, including "Awakening to Awe" and "The Paradoxical Self," Schneider is perhaps best known as the developer of Existential- Integrative Therapy.
Existential-Integrative Therapy (EI) is a psychological approach that integrates the various types of therapy available and in use today, from Cognitive Behavioral Therapy and antidepressants to depth psychology and humanistic counseling. It places existential psychology, the search for meaning in one's own existence, as the ground on which applied psychology stands.
In a 2008 review of Schneider and Krug's book "Existential Integrative Therapy" for the American Psychological Association, noted researcher Bruce Wampold suggested that "an understanding of the principles of existential therapy is needed by all therapists, as it adds a perspective that might …form the basis for all effective treatments" (PsycCritiques, February 6, 2008, p.6).
That recognition, which is growing in the U.S., has already found a significant audience across the world, with Schneider and other American existential therapists in demand at international psychological conferences, trainings, and symposiums.
"The appeal of existential psychology in East Europe and other parts of the globe which have experienced major upheaval is not all that surprising, but what is surprising is that thanks in great part to the East European Association, existential psychology is now becoming a force to be reckoned with globally, and this is bound to impact our training and growth here in the U.S. as well," Schneider said. "I feel certain that forebears such as Rollo May and Jim Bugental would be deeply moved by the present developments of our international partnership."
Located in San Francisco, California and Seattle, Washington, Saybrook University is the world's premier institution for humanistic scholarship and research. Saybrook offers advanced degrees in psychology, mind-body medicine, organizational systems, leadership, and human science. For 40 years, Saybrook has empowered students to find their life's work and achieve their full potential. Saybrook's programs are deeply rooted in the humanistic tradition and a commitment to help students develop as whole people – mind, body, and spirit. Saybrook University is accredited by the Western Association of Schools and Colleges (WASC). It is also authorized by the Washington Higher Education Coordinating Board and meets the requirements and minimum educational standards established for degree-granting institutions under the Degree Authorization Act.
For more information, visit http://www.saybrook.edu