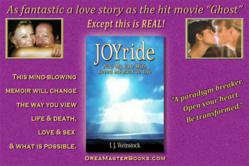 From the Afterlife, the author's late wife, Joy, led him on what he describes as "a healing journey" which ultimately included "ten sacred, sexual, supernatural encounters" that he calls the "Rites of Joy."
Los Angeles, CA (PRWEB) September 12, 2012
The belief in life-after-death is becoming more accepted and, according to recent surveys, 74% of Americans believe in some form of an afterlife. Having just won an eLit Book Award, I. J. Weinstock's shockingly candid memoir about his sex-after-death experience will test the faith of the most ardent believer and give hope to the millions who've lost a loved one.
In his award-winning memoir, "JOYride: How My Late Wife Loved Me Back To Life"(DreaMaster Books), Mr. Weinstock claims that his late wife, Joy, communicated with him from the afterlife and led him on "a healing journey" which ultimately included "ten sacred, sexual, supernatural encounters" that he calls the "Rites of Joy."
Weinstock's story is as fantastic as the hit movie and current Broadway musical, "Ghost," except he claims it's real. When questioned about the plausibility of life-after-death communication, let alone sex-after-death contact, the author replied, "If I hadn't experienced it myself, I'd have a hard time believing it, too. But I was graced with what you'd call a 'miracle,' so I have to testify to it."
Weinstock—who's been an actor, producer and author (his last book was published by Simon & Schuster and featured on The Phil Donahue Show)—says that he and his wife, Joy, "were soul mates. Our love was like a fairy tale. So when I lost her to cancer, I was devastated and didn't know if I wanted to go on living. Then a miraculous thing happened—in the depths of my grief Joy began to communicate with me from the afterlife."
Asked to describe these "ten sacred, sexual, supernatural encounters" he calls the Rites of Joy, the author said, "It's difficult to talk about things that are beyond words. Without the experience, we don't have the language. We can't even conceive of it. That's why I had to write a whole book about it. If someone is genuinely curious, they should read 'JOYride.' They'll have their ideas about life and death, love and loss, and even sex transformed."
Pressed about these extraordinary paranormal encounters with his late wife, the author offered this email description of the Rites of Joy. "The word that comes closest is 'adoration.' Being touched in the most loving ways, in 1001 different ways, from the gentlest tenderness to the most sublime sensuality. This heavenly touch invoked visions, triggered memories of our life together, and sent me into shuddering ecstasies. In these Rites of Joy I experienced an out-of-this-world touch—a transmission of love from the afterlife which heals the broken heart and soothes the shattered soul."
Risking ridicule, Weinstock nevertheless went public with his story because he believed it would bring hope and comfort to the bereaved. "The possibility of communication with our loved ones has untapped healing potential for the millions who grieve the loss of someone they love." The author has been gratified by the overwhelmingly positive response to his book. "It's worth all the doubters and skeptics when a mother who recently lost her 22-year-old son to a drug overdose writes me that reading 'JOYride' was like a 'holy absolution' that gave her permission to heal."
Weinstock was delighted to win the eLit Book Award in the Inspirational / Spiritual category. "It's wonderful to be an award-winning author," he said from his Los Angeles home, "and I hope this recognition will help more people hear about 'JOYride' so that they, too, can be inspired by my story."
The annual eLit Awards are dedicated to honoring excellence in digital publishing. Engliah-language books from all over the world are considered every year. As digital e-books become more popular than printed books, these awards are more relevant than ever.
It turns out that "JOYride" has even more in common with "Ghost" than being an afterlife love story since it also began with a murder.
Weinstock's late wife, Joy Mitchell Lisker, wrote her own memoir, "LOVE EVER AFTER: How My Husband Became My Spirit Guide" (DreaMaster Books), which chronicles her afterlife conversations with her previous husband, Bob Lisker, after he died. They were married after Lisker's first wife had been murdered and his teenage son, Bruce, convicted of that murder and sentenced to life in prison.
According to Joy's memoir, her late husband gave her a 12-Step program to find new love and, after using it for six weeks, she met and fell in love with Weinstock. "So we were literally a match-made-in-heaven," Weinstock adds.
There's even a happy ending to the Lisker tragedy. A few weeks after Weinstock finished writing "JOYride," a federal judge overturned Bruce Lisker's conviction, and after spending 26 years in prison for a crime he did not commit, the now 44 year old was released from prison and went "home" to live with Weinstock where he experienced his first taste of freedom. Bruce Lisker's incredible story was the subject of a recent 48 Hours Mystery episode, "The Whole Truth."
Weinstock marvels at the irony that out of a murder and miscarriage of justice have emerged these two inspirational memoirs that testify to life-after-death and eternal love. He calls this incredible afterlife saga "The Joyful Redemption."
According to DreaMaster Books, several Hollywood producers have expressed interest in the memoir. With "Ghost" resurrected now on Broadway, it seems inevitable that this award-winning story of eternal love that includes sex-after-death will be with us for a long time to come.
"JOYride: How My Late Wife Loved Me Back To Life" is available on Amazon.com in print as a paperback and as a Kindle e-book.
Mr. Weinstock lives in Los Angeles and New York, and has been interviewed by the CBC in Canada and other radio programs around the country. For more information and to hear an in-depth interview on Fox News AM 1130 go to http://www.DreaMasterBooks.com,