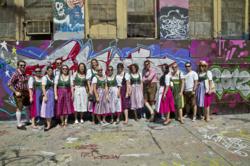 "The Dirndl in all its shapes and forms stands for the combination of tradition and modern design that makes Austria stand out as a vacation destination." Michael Gigl, Director, Austrian Tourist Office New York
New York, NY (PRWEB) September 11, 2012
If you live in New York City and recently spotted a group of people dressed in various shades of green, vivid pink and playful lilac, chances are, you've come across the Austrian Tourist Office's Dirndl Ambassadors. Charged with the fun task of introducing New Yorkers to Austria's most beloved traditions, this dynamic group has already made friends with classical music fans at the New York Philharmonic Orchestra's concert in Central Park, showcased the Dirndl to great effect at MoMA's PS1 WarmUp, and courted the Austrian Wine Queen during a visit to the Terroir Wine Bar on the HighLine.
The Dirndl Ambassadors have received an enthusiastic welcome from New Yorkers, who are definitely flirting back, taking pictures with the Dirndl Ambassador group, and posting them on http://www.facebook.com/austriatravelinfo. Those who like the page can sign up to win a dream trip for two to Salzburg and Bad Aussee, the heart of Austria's "Dirndl-country," where you get to choose your very own Dirndl or Lederhosen. The Austria Dirndl Ambassadors will still be appearing in New York throughout September – look for them on the 18th cycling along the Hudson River and then showing off their Dirndl and Lederhosen at the Frying Pan.
Ask the Dirndl Ambassadors about their favorite Dirndl designers, and they'll respond enthusiastically. For Austrians today, the Dirndl is not just a beloved tradition, but a fashion statement. Women are having fun combining traditional elements with contrasting, modern ones, fully embracing Vivienne Westwood's famous quote, that "there would be no ugliness in the world if every woman wore a dirndl." Young Austrian designers, such as Lena Hoschek– who, coincidentally, learned her craft with Vivienne Westwood in London – love to play with these traditional elements and have great success on international runways with the resulting collections.
For Michael Gigl, Director at the Austrian Tourist Office in New York, the Dirndl has another meaning: "The Dirndl in all its shapes and forms stands for the combination of centuries of tradition and modern design, as well as the love of life and the generous hospitality that make Austria stand out as a vacation destination."