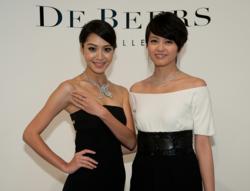 (PRWEB) September 10, 2012
Taipei - De Beers Diamond Jewellers, the definitive destination for diamond jewellery, has unveiled its High Jewellery Collection – Imaginary Nature – for the first time in Asia today. The high profile event was attended by award-winning actress, Gigi Leung and Taiwanese actress and model Bianca Bai.
With Imaginary Nature, De Beers takes flight for a journey of light, where heightened imagination meets natural beauty. As the boundless creativity of dreams takes hold, lines of reality are blurred and a magnificent moment of transformation is conjured.
Francois Delage, CEO of De Beers Diamonds Jewellers, commented, "We wanted through Imaginary Nature to truly establish our legitimacy as a Jeweller and to express our vision through a strong creative and contemporary gesture. Our unique designs inspired by our DNA bring to life our brand essence – The Jeweller of Light – by creating exquisite pieces, moments and movements from a journey from earth to light. The eight one-of-a-kind creations sublime our diamond mastery and jewellery know-how, and we are delighted to now unveil them in Asia"
Each Imaginary Nature piece beautifully balances the contrasts of the natural world; the drama of an ascent and the grace of gliding. These rich contradictions are conveyed through the sensitive selection and detailed array of diamond cuts and settings, with breathtaking innovation, the magnificent marvels of The Imaginary Nature Collection take flight. Radiant pear-cut diamonds are set on a tilt in a display of outstanding skill to engage the light and trace movement. By contrast, the definite angles of the baguettes and the perfection of the round brilliant diamonds punctuate each piece with tradition and brilliance.
Gigi Leung, looking radiant wearing the De Beers Arpeggia Collection, was mesmerised by the Imaginary Nature creations commenting; "It is so refreshing to see a contemporary take on High Jewellery; the 3-dimensional aspect and the interplay of light between different diamond cuts is truly unique."
Hollie Bonneville-Barden, Jewellery Designer explains the inspiration behind the creations; "Imaginary Nature represents an exhilarating yet elegant display of evolution, inspired by the beauty of transformations within nature, which are realised in a story of metamorphosis. Each piece reveals a unique gesture inspired by the essence of nature. With the diamond as our muse, the Collection is centered on diamonds of character, focused on pears and baguettes to create a language of movement and fluidity."
For further information and images please contact:
Selda Bensusan
T: +1 (212) 751 2265
sbensusan (at) debeers (dot) com
http://www.debeers.com
THE DE BEERS DIFFERENCE
De Beers, the Jeweller of Light, creates timeless treasures that reveal and celebrate natural beauty. As the definitive destination for diamond jewellery, we have a quest for inner brilliance, bringing lightness, femininity and delicacy to our sublime diamond jewellery.
Drawing on diamond mastery since 1888, De Beers go well beyond the '4C's' of cut, clarity, colour and carat weight to capture unmatched Fire, Life, and Brilliance, providing the most beautiful diamonds in the world set in magnificent designs. The creation of timelessly elegant diamond jewellery – from selecting the world's finest diamonds to impeccable craftsmanship and sophisticated designs – is the De Beers difference.
De Beers is proud to be the only brand to demonstrate the beauty of its diamonds, using the De Beers Iris. This proprietary technology, found in each De Beers store provides clients with an objective way to see the beauty of their diamond through the eyes of an expert.
THE DE BEERS GUARANTEE
Each piece of De Beers jewellery is certified with a De Beers passport and each polished diamond above 0.20 carats is microscopically branded with the De Beers Marque. The De Beers Passport documents the specifications of your diamond jewellery and is your guarantee that every single De Beers diamond is natural, untreated, conflict-free and responsibly sourced and crafted. The De Beers Marque, using technology patented by the De Beers Group, is invisible to the naked eye and ensures that each diamond is individually catalogued in the De Beers diamond registry, confirming its identity as a De Beers official diamond, to provide clients with a total peace of mind.
DE BEERS DIAMOND JEWELLERS
De Beers Diamond Jewellers was established in 2001 as an independently managed and operated company by LVMH Moët Hennessy Louis Vuitton, the world's leading luxury products group, and De Beers SA, the world's premier diamond mining and marketing company.