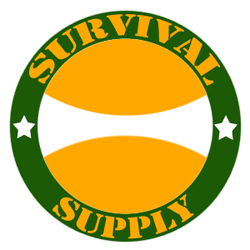 White Plains, NY (PRWEB) September 11, 2012
The recent hurricane Isaac shed light on two aspects of a disaster: the degree of destruction a storm can cause and the importance of an emergency preparedness plan. Developing a strategy that encompasses food, water, awareness, and communication is crucial for all individuals, regardless of whether he or she lives in a hurricane zone or an area of the country more prone to other natural disasters. National Preparedness Month, coinciding the same time as the aftermath of this recent hurricane, focuses not only on educating individuals but also on developing an effective solution. Offering a wide range of disaster and emergency preparedness supplies, retailer Survival Supply is promoting awareness of National Preparedness Month.
During September, more than 3,000 private and public organizations on national, regional, and local levels are promoting emergency preparedness efforts. This ranges from increasing awareness, providing suggestions and information for creating a kit, and getting involved in the community.
September 2012 is the ninth annual National Preparedness Month. The Federal Emergency Management Agency in the U.S. Department of Homeland Security has sponsored the occasion and has aimed to educate citizens regarding preparation for natural disasters, mass casualties, biological and chemical threats, radiation emergencies, and terrorist attacks. In response, individuals and family members are advised to consider emergency preparedness regarding their pets, the elderly, those with special needs, schools, and businesses.
Survival Supply offers a wide range of emergency preparedness products, addressing all aspects of planning. Products range from full kits of freeze-dried food to emergency water to first aid and radios for communication.
Freeze-dried food, part of kits by Mountain House, Wise Food Storage, and Lindon Farms, is an essential component to emergency preparedness. Packaged in large or small cans or Mylar pouches, emergency meals require minimal preparation – just add water and the meal rehydrates in minutes. Brands like Lindon Farms and Wise Food Storage even incorporate portability into their products, allowing a month's amount of food to quickly be grabbed in an emergency. Foods, lightweight and portable, retain all of their taste and nutritional content and, under optimal storage conditions, can last up to 25 years when unopened.
Five-year emergency food bars are an economical solution for getting a day's worth of calories or greater. Approved by the U.S. Coast Guard, emergency food bars contain 2,400 to 3,600 calories, with single-day 1,200 options available, and can be stored outdoors and eaten without preparation.
Although food is an important aspect of emergency preparedness, it's not the only part. Water is equally important. Survival Supply presents two options in this regards. For long-term preparation, gather and store water from natural sources and later purify it for use, or build up a supply with cans of 30-plus year emergency water.
Power may be cut off in even the most minor emergency situations. A home, business, school, or building, in preparation, should have a portable emergency generator on hand. Survival Supply's Humless Roadrunner and corresponding Humless Roadrunner Solar Kit encompass all components for an effective power supply. A portable, lithium-based generator gives 120wh of power and stores energy from solar panels, a hand crank, windmill, DC car outlet, or another 12VDC power source. The kit further equips the generation with a solar panel and floodlight.
Survival Supply's product selection touches on all aspects of emergency preparedness. Disaster kits provide supplies for automobile and outdoor emergencies, while first aid kits are necessary for short- and long-term planning. Along with essentials for emergency preparedness, Survival Supply offers radios, trauma kits, portable shelters, safety products, greenhouses, and defibrillators.