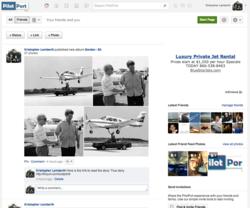 Pilots & Aviation Enthusiasts are thirsty for knowledge.
(PRWEB) September 11, 2012
What if General Aviation Disappeared? Well it's starting to. Pilot population is down from 800,000 to 600,000. Student Pilot dropout rates are 70-80%. Airports are closing and there is a decline in funding. The media hasn't helped either by sensationalizing General Aviation accidents.
PilotPort was built with the purpose to try and help reverse this trend. Built from the ground up using the latest development technologies, PilotPort has implemented feature rich functionality for Aviation Enthusiasts & Pilots to connect worldwide to share valuable information and help nurture and encourage Pilots through their training. We're getting engaged and hoping others will follow.
A couple of entrepreneurs have set out to build a premier aviation social network from the ground up catering to pilots and aviation enthusiasts.
"Building a social network from scratch is a monumental task, "said Emer Kurbegovic. "There simply wasn't any canned software packages that provided what we were looking for which is why we developed our own. This social network feels like a real social network should feel, unlike its other counterparts that have the blog or forum style posting capabilities."
"Pilots & Aviation Enthusiasts are thirsty for knowledge, "said Kristopher Lamberth. "We felt there was a niche for a new type of Aviation Social Community for people who are looking for something special and varied."
Although there are other social aviation websites, PilotPort intends to offer more, having developed the framework from the ground up utilizing the latest Development Technologies to provide a feature rich user experience.
"At PilotPort.com you'll be able to do just about anything Aviation related," Kris continued. "PilotPort has been designed to allow us the ability to easily bolt on additional modules that we code for increased functionality.
PilotPort is in beta mode - (fully functional) but very soon they will start the process of adding new modules and feature sets requested from their Pilot population.