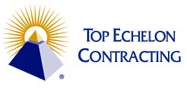 "We have to be aware that Obamacare is coming in one shape or another and is going to have an impact on small-to-medium-sized businesses and the contract staffing industry."
Canton, OH (PRWEB) September 13, 2012
As businesses across the country prepare for the impact of the Patient Protection and Affordable Care Act (PPACA), Top Echelon Contracting (TEC), a provider of contact staffing back-office services to recruiters, is working to implement necessary measures to comply with the healthcare reform law.
"We have to be aware that Obamacare is coming in one shape or another and is going to have an impact on small-to-medium-sized businesses and the contract staffing industry," said TEC President Debbie Fledderjohann. "We are staying on top of it."
TEC already offers healthcare insurance through Anthem Blue Cross and Blue Shield. In order to ensure compliance with the law, Fledderjohann and her human resources team have been meeting with industry experts, participating in Webinars, and reading official documentation on the law. The company is currently preparing to include the total value of the health insurance on employees' W-2s in January as required by the law. They are also working with Anthem to make any necessary changes to ensure its plan meets the requirements of the employer mandate that will go into effect in 2014.
Fledderjohann is also using the knowledge she has gained to educate recruiters on the issue through her Contract Staffing Blog. The PPACA is a hot issue because many recruiters run their own back-offices and therefore serve as the legal Employer of Record for the contractors they place.
Fledderjohann said one of the most important recent developments recruiters should be aware of is the implementation of a look-back period that could insulate them from the employer mandate under the PPACA. Recruiters generally do not provide healthcare insurance to their contractors, but they may have to provide coverage or pay penalties under the employer mandate if they have 50 or more full-time equivalent employees. Even if they do offer insurance, they could be subject to other penalties if the coverage is deemed to be "unaffordable."
Recent guidance released by the federal government provides a look-back period that would reduce the number of employees that could be considered full-time when calculating healthcare reform penalties, said Fledderjohann, citing information from Staffing Industry Analysts. Only workers working full-time after 12 months could be included in that calculation under this guidance. While the guidance is not yet regulation, the government says firms can rely on it until 2014.
Fledderjohann said the law could also have a positive effect on the contract staffing industry.
"It actually could push more business to contract staffing firms," Fledderjohann said. "As companies try to find ways to limit their costs and responsibilities under the law, we expect to see many of them turn to contractors who are W-2 employees of a contract staffing back-office, such as TEC. In this scenario, the contractor is counted as an employee of the back-office, not of the company."
The demand for these types of positions has already surged since the recession due to economic uncertainty, employers' desire for a flexible workforce, and increased employment regulations, Fledderjohann said. In fact, according to the American Staffing Industry, temporary/contract employment has increased by 22.4% in the face of continued economic uncertainty and the upcoming presidential election. TEC saw its own commercial contract placements increase by 22% in 2011 and has noticed a continued upward trend throughout this year.
TEC will continue to monitor the latest developments with the PPACA and will report on issues that impact contract staffing on its Contract Staffing Blog.