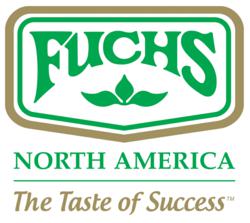 Baltimore, Maryland (PRWEB) September 10, 2012
Fuchs North America, a leading supplier of seasonings, flavor systems and taste solutions to the food manufacturing and foodservice industries, has achieved SQF 2000 certification for its main manufacturing facilities in Owings Mills, Md., USA.
The SQF designation comes from the Safe Quality Food Institute, which has a stated mission "to deliver consistent, globally recognized food safety and quality certification programs based on sound scientific principles, consistently applied across all industry sectors."
The SQF 2000 certification means that all Fuchs products are manufactured under certified, validated food safety and quality standards. SQF certification is recognized by retailers, foodservice providers and regulatory agencies that require their suppliers to have implemented HACCP food safety and quality management systems.
Moreover, the SQF Program is recognized by the Global Food Safety Initiative (GFSI) that links primary production certification to food manufacturing, distribution and agent/broker management certification.
According to Felix Venezuela, director of operations for Fuchs North America, SQF certification standardizes food safety requirements, provides proof of the company's due diligence, and also complies with the most stringent regulatory requirements. "We're proud of the fact that our organization has been recognized for promoting confidence in food safety and quality. SQF certification enhances our market image," he said.
SQF certification contributes to the company in other ways, too. Mark Richardson, Fuchs North America's quality assurance manager, commented that the SQF initiative is part of a broader effort of companywide education on product manufacturing quality and consistency.
"The SQF certification ties in with an extensive educational program we've undertaken at all levels of the company – from senior management to floor-level personnel," Richardson said. "SQF is one of many tools by which we are raising the bar on quality, and achieving better outcomes for our customers."
For more information about Fuchs North America's SQF certification, contact Patrick Laughlin, Director of Marketing, at 443-544-1228. You may also visit http://www.fuchsna.com.
About Fuchs North America
Fuchs North America is a leading producer and supplier of value-added seasonings, spices and flavor systems to the food manufacturing and foodservice industries. With a heritage that extends back to 1939 as Baltimore Spice Company, the firm specializes in the development of full flavor systems, custom flavor profiles and seasoning products – including supporting some of the world's largest and best-recognized food brands.
Fuchs North America's seasoning specialists are experts in anticipating and identifying consumer trends, and converting them into successful flavor profiles. They work closely with food technologists and product development personnel at client companies to design distinctive, differentiated flavor systems. Fuchs products are made in a precision processing environment that ensures consistent, repeatable quality, order to order.
Since 1990, Fuchs North America has been part of the worldwide Fuchs Group, the largest privately-held spice and seasoning company in the industry. The Fuchs Group serves food manufacturing, foodservice and retail segments, backed by secure, quality sourcing plus state-of-the-art production facilities on four continents.