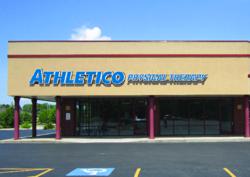 "I've seen firsthand the difference Athletico has made in the lives of hundreds of patients over the last 15 years," says Regional Manager Lynn Stefanich-Bigelow. "Now I'm proud to be able to bring that service to the people in my hometown."
(PRWEB) September 11, 2012
Joliet-area residents who have pain from an accident, sports injury or even just everyday activities now have a new resource with the opening of Athletico Physical Therapy at 2793 Black Road in Joliet. Midwest-based Athletico's new facility was brought to the area by Regional Manager Lynn Stefanich-Bigelow who is a resident with lifelong ties to the community. Athletico Joliet offers physical therapy, sports medicine, work rehabilitation, work conditioning, functional capacity evaluations, video gait analysis, and video throwing analysis. Transportation services are also available for those patients who require transportation assistance.
Stefanich-Bigelow grew up in the Plainfield/Joliet area where she attended Plainfield High School, returning to Joliet in 1997 after being hired by Athletico. Her family has strong ties to the Joliet community. Her brother, Dan Stefanich, is President/CEO of The Gammon Group, an award-winning advertising and marketing firm serving the Midwest market for 35 years. Stefanich-Bigelow's mother, Gloria Gammon Tibbs, founder of the ad agency still resides in the area.
"I've seen firsthand the difference Athletico has made in the lives of hundreds of patients over the last 15 years," says Stefanich-Bigelow. "Now I'm proud to be able to bring that service to the people in my hometown."
Matt Mickas, PT, DPT, who previously worked out of Athletico's Lemont clinic, will serve as the facility manager and treating physical therapist. Trained in Matheson Functional Capacity Evaluations, Mickas brings strong work rehabilitation and work conditioning experience to the community.
"I love Joliet's reputation as a hard working city and feel that my background and the skilled services that Athletico provides will be a great addition to the city," says Mickas, who is also a certified strength and conditioning specialist and is residency trained in manual therapy. "Whether it is training athletes to safely return to the playing field, treating the shoulder pain of a carpenter to comfortably return to work, or educating a stay-at-home mother on proper posture to ensure comfort when handling her children, the physical therapy profession directly changes our patients' lives. It is very rewarding to know that you have helped a person improve their quality of life."
Athletico Joliet provides the community quality care and convenience through the following means:

Patient outcomes reporting using a third-party outcomes system to provide measurable data on a patient's progression that is discussed throughout the course of treatment
Patient satisfaction reporting throughout treatment in order to better understand and respond to patient needs while they are still receiving rehabilitation services, rather than after a patient is discharged
Convenient hours including early mornings, evenings, and Saturdays
Prompt scheduling of each initial evaluation within 24-48 hours of the patient's phone call
Ongoing patient education on diagnosis, treatment plans, and prescribed home-exercise programs
Clear, consistent communication between therapist, physician, and patient regarding progress
To learn more about Athletico Joliet or to schedule a complimentary injury screening, call Matt Mickas at 815.725.9134 or email him at mmickas (at) athletico (dot) com.
Athletico Joliet
2793 Black Road
Joliet, IL 60435
Phone: 815.725.9134
Fax: 815.725.9190
ABOUT ATHLETICO
Athletico Physical Therapy provides orthopedic rehabilitation services to communities and organizations throughout Illinois, Wisconsin, and Indiana. To demonstrate our commitment to both our patients and referring physicians, we measure functional patient outcomes and patient satisfaction with national data comparison using a third-party outcomes system.
Our services include physical and occupational/hand therapy, work rehabilitation, performing arts rehabilitation, women's health therapy, spine control classes, pediatric physical therapy, vestibular rehabilitation, and athletic training. Expanded services include performance enhancement, fitness center memberships, golf fitness, endurance, nutrition, and massage therapy.
Athletico accepts all indemnity, PPO, POS, and WC plans including BC/BS, Humana, Medicare, Aetna (PPO/HMO), PHCS, UHC (PPO.HMO) and many others. As a courtesy to our patients, we verify insurance coverage.
Athletico Toll-Free Injury Hotline 877-ATHLETICO (1-877-284-5384) http://www.athletico.com