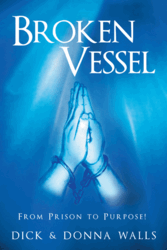 Having experienced unimaginable pain, broken hearts, financial ruin, and imprisonment, Dick and Donna Walls have been called to tell their story.
Lubbock, TX (PRWEB) September 11, 2012
"Broken Vessel: From Prison to Purpose" (published by WestBow Press), a new book by Dick and Donna Walls, tells the story of an ordinary couple whose lives were torn apart by wrongful imprisonment and a health crisis, but were made whole again through trusting in God's love and power to heal.
Over the course of two years, Dick Walls went from a successful business career to wearing prison garb as he was wrongfully convicted of securities fraud. He was taken from his home and incarcerated more than 2,000 miles away from his wife, Donna, who suffered from serious heart problems that nearly killed her.
"Broken Vessel" is a completely honest, heartfelt, blow-by-blow account of these turbulent years – how the couple found the strength to not only survive Dick's incarceration and Donna's brush with death, but also found Broken Vessel Ministries, a traveling, nationwide Christian ministry to the hurting. As told through the compelling testimony of Dick and Donna, it is a story of God's love and how He takes care of his children, even in the worst of times.
"This book is a story of what God has done for us through a very difficult time," says Dick Walls, "and how we learned to trust Him in all circumstances. Bad things happen to good people, but God turned a bad situation into something exciting and uses it to further His kingdom."
Dick and Donna's tale of healing and growth will lift up and inspire anyone who has gone through trials and tribulations. "Broken Vessel" sends a forceful message that God is guiding us, even in our darkest hours.
About the Authors
Dick Walls was successful in the insurance industry and over 35 years won many awards for outstanding production. After his wrongful incarceration, he and his wife, Donna, now travel the country, sharing their story of God's amazing grace and healing.
WestBow Press is a strategic self-publishing alliance of Thomas Nelson Inc., the world's largest Christian publisher, and Author Solutions Inc. (ASI) — the world leader in the popular self-publishing industry segment. Through this partnership, authors benefit from the rich publishing heritage of Thomas Nelson and the speed-to-market advantages of the ASI self-publishing model. Titles published through WestBow Press are evaluated for sales potential and considered for publication under the Thomas Nelson imprint. Thomas Nelson Inc. continues to "inspire the world" with distribution of products in more than 100 countries worldwide. For more information, or to start publishing today, visit http://www.westbowpress.com or call (866)-928-1240. Follow us @westbowpress on Twitter for the latest news.