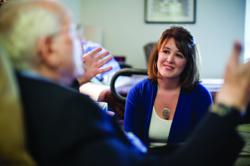 With ONE CALL™ by Salus, we are offering a unique, one-source approach for both home healthcare and caregiving needs.
Irvine, CA (PRWEB) September 11, 2012
Salus Homecare, an established provider of home care, has launched a new line of home-based services, providing skilled nursing, physical therapy, occupational therapy, speech therapy, and medical social services. When these medical services are combined with Salus Homecare's non-medical caregiving services, families will experience the convenience of having a "one-source" approach for all their home-based needs.
"We realize the need for home care services can often emerge out of a crisis situation or as the culmination of a longer-term decision process," explained Mark Mortensen, CEO of Salus. "At that critical time, a family may not be able to make a true assessment of what they need – a licensed nurse, a personal caregiver, or a combination of both. This is compounded by the fact that these needs change on a regular basis. Our intent is to simplify the process with our new program called ONE CALL™ by Salus. With just one phone call to Salus, our clients now have access to a full range of home-based medical health care and non-medical caregiving services, allowing Salus to coordinate these services according to those changing needs."
This approach provides a higher level of continuity of services, according to Mortensen. With Salus, those in need of home care benefit from the convenience of having one trusted source to manage all of their home care services. This helps to minimize the effect of what has historically been a disjointed care-delivery process in the home.
The levels of support now offered by Salus Home Health include two important offerings:
a) Doctor prescribed medical services such as skilled nursing, rehabilitation and medical social services;
b) Non-medical caregiving services, such as assistance with activities of daily living.
When these services are managed by one source, the recipient benefits in two ways. First, they have access to a breadth of services to address immediate needs. Second, they can trust those services to be modified as those needs evolve.
"We intend to develop this new division on the same philosophy with which we have built our overall business; that is, treating the needs of our clients and patients as if they were our own family members or friends," explained Mortensen. "With ONE CALL by Salus, we are offering a unique, one-source approach for both home healthcare and caregiving needs. This firmly addresses what has been a void in the industry – the lack of coordination between skilled nursing (medical) and home caregiving (non-medical)."
Salus Home Health Services offers coverage in California, including Orange, Los Angeles, Riverside, San Bernardino, Ventura and San Diego counties. Combined services are also offered in Salt Lake City, Utah.
More information is available at http://www.salushomecare.com, news (at) salushomecare (dot) com or 888/724-8742.