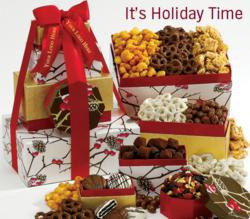 branded food gifts rock
Atlanta, GA (PRWEB) September 12, 2012
Maple Ridge Corporate Food Gifts website was launched by Promology101, the leading provider of logo apparel and promotional products.
"Food gifts with a corporate logo is a great way to thank client and employees as long as it is a recognized food brand," says Joe Boccelli, V.P. of Sales & Marketing at promology101.
People tend to be a bit reluctant to eat food gifts that are not from a recognized or a trusted name. Founded in 1979, Maple Ridge Farms is the largest company in America specializing in corporate food gift programs. The business is built on one, fundamental principle: Food gifts should be recognized for their outstanding quality and exceptional flavor.
"The opportunity to co-brand a corporate logo with Maple Ridge Farms brand has proven to be a huge hit with clients and employees," says Joe Boccelli.
Promology101, Headquartered in Atlanta, GA guarantees quality, freshness and on-time delivery of all maple Ridge products. Whether it is the richness of handmade chocolates, the crunchy freshness of fresh-roasted nuts, or the exceptional flavor of smoked meats, high standards of excellence are always maintained. With a 'fail-safe' system to process orders quickly and correctly, Promology101 has shipped over 99.9% of all orders on time.