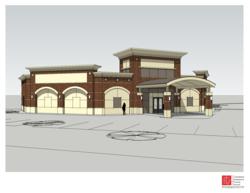 Houston, TX (PRWEB) September 12, 2012
Sugar Land Face and Body has broken ground on a brand-new, 6,400-square-foot facility to house its professional plastic surgery practice and Medical Spa.
This free-standing building at the intersection of Highway 59 and Sweetwater Boulevard, Sugar Land, boasts a state-of-the-art operating room, recovery room, pre-operative room and a comfortable library where families can relax while their loved ones have surgery. The facility's sophisticated med spa will be housed in the same building as the surgery center, but accessible via a separate porte-cochere entrance.
With an anticipated completion this fall, Sugar Land Face and Body is planning a New Home for a New You grand opening celebration, the date and time of which will be determined closer to the opening.
The event and weeks leading up to its debut also feature a raffle with over $20,000 worth of products and services; including the grand prize, a Week in Paris for Two. Potential winners must "Like" Sugar Land Face and Body on Facebook to be eligible to receive any raffle tickets. Updates and prize details will also be revealed via Facebook
Potential winners who have "liked" Sugar Land Face and Body on Facebook may earn Raffle Tickets the following ways:
One raffle ticket will be given for every $500 spent at Sugar Land Face and Body. Purchases can be made on surgery services or any service or product from the Medical Spa. Patients will earn one ticket for every $50 dollars they donate to Sugar Land Face and Body's charity, Fort Bend Junior Service League. Bonus raffle tickets will also be given away sporadically to Facebook fans.
A full list of rules and restrictions for the New Home for a New You raffle is available at http://www.beautybecomesyou.com. Until moving to the new location, Sugar Land Face & Body Plastic Surgery will maintain its current practice at 16525 Lexington Boulevard, Suite 150, Sugar Land, Texas 77479.
About Dr. Eric Humble and Sugar Land Face & Body Plastic Surgery
Dr. Eric Humble is Board certified in Plastic Surgery and a Member of American Society of Plastic Surgeons. Also, voted twice in a row to H Texas Top Doctors. Not only is Dr. Humble an expert in his field, but also personable and compassionate. Along with his caring staff, Dr. Humble provides a safe and welcoming environment where he helps patients find satisfaction in the way they look and feel. With integrity and honesty, Dr. Humble consults with each patient in depth to find the best ways to enhance his or her facial features and/or body shape. In an effort to reach the optimum, most natural results, Dr. Humble gives his expert recommendation on each individual case, even if the course of action means a less invasive (and less expensive) method to achieve the desired end result.
The entire staff at Sugar Land Face & Body is on hand to answer any questions potential patients may have regarding office policies and/or surgery and spa procedures. Providing concierge-type service and personalized attention, Sugar Land Face & Body's staff members pride themselves on guiding patients throughout the entire process, before, during and after procedures, whether they be a surgical facelift or a quick chemical peel.