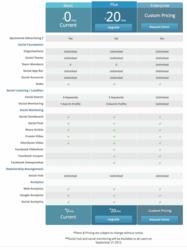 Upgrade to its pro account ($20 per month), and Jugnoo allows unlimited organizations and social teams to be added.
Burlington, ON (PRWEB) September 11, 2012
Last week, Hootsuite announced it has acquired Seesmic, its social media management competitor, in order to gain access to Seesmic's enterprise user base.
However, Seesmic users who are less than enthusiastic about the thought of being absorbed into Hootsuite can take heart: There is an alternative to the Hootsuite social dashboard. In fact, there is an alternative with far greater functionality such as content creation, more in-depth social and web analytics, and visual platforms.
Jugnoo, a cloud-based Social CRM platform launched in February 2012, allows users to monitor and manage social media activities; create content including video, slide shows and promotions; and track and measure efforts.
Recently, Jugnoo added BufferApp integration, Google Analytics and social analytics for Twitter, Facebook and LinkedIn.
Jugnoo's vision is to help marketers and business owners understand how to go about successfully growing business on the social web and give them the tools to do so.
With the Jugnoo Social Dashboard, businesses can:

Consolidate all their social network accounts in one place (Twitter, Facebook, LinkedIn, YouTube, Buffer, Posterous, Tumblr and Google).
Monitor multiple search streams.
Use Tweet Visualyzer™ to see who's saying what in a visually attractive and easy-to-manage playground.
Create and distribute video using a library of templates.
Optimize key information from each social network.
Engage directly with customers on flagged business opportunities or customer support.
Improve their social media productivity by using actionable intelligence.
Track and review analytics across multiple channels.
Receive guidance along the way from the Social Advisor answering the question, "What do I do next?" Best practices, tips, and video tutorials are offered each step of the way from some of the best minds in the business.
What makes Jugnoo truly different is it provides data in a way that allows business owners and marketers to manage the process of acting on the information more effectively. Users can organize, flag and delegate items for lead management, reputation management, customer support and other social business objectives (Jugnoo's social workflow solution will be released in October).
What you get for your money
Jugnoo's freemium model gives three team members unlimited social profiles management, social teams, social monitoring and Jugnoo's Social Hub™, as well as optimized scheduling of updates via their partnership with Buffer. Hootsuite's freemium model allows five social profiles, social sharing, scheduling, and basic analytics.
Upgrade to its pro account, and Jugnoo ($20) allows unlimited organizations and social teams to be added, five team members, three social monitoring profiles, and adds Facebook sweepstakes and promotions. Social teams will be available September 12, with social monitoring and Social Hub™ available to all users September 21.
Hootsuite ($9.99) allows two team members with each additional pro team member costing extra. To get to the equivalent of 5 team members, the cost would be $50 per month compared to Jugnoo's $20 per month.
Jugnoo has many changes in store over the next few weeks including the addition of more social networks, RSS feeds, and custom streams (multiple networks in a single stream). Jugnoo`s patent-pending social lead generation solution Ka'Ching will identify and delegate sales opportunities and customer services based on the human intent, sentiment, and keywords. Additionally, Jugnoo's mobile app is scheduled to be released in the next eight weeks.
Seesmic users don't have to be limited to either moving to a new owner or using basic Twitter and Facebook features. Also, those who transfer to Jugnoo will lock in at the $20 monthly rate for life, even after new features and solutions are added by signing up here.
Jugnoo's Social CRM platform is available to all at http://www.jugnoo.com.
About Jugnoo
Jugnoo, the Social CRM Company, drives customer acquisition and retention for brands and organizations. The cloud-based social media technology increases online visibility and commerce while building loyalty and advocacy. Jugnoo recognizes that businesses need a strong social media solution to compete and be successful. For more information, visit http://www.jugnoo.com.
Contacts:
Arment Dietrich, Inc.
Lisa Gerber
(208) 290-2525
lgerber(at)armentdietrich(dot)com
Jugnoo
Danny Brown
VP, Partner Strategy
(647) 637-3776
dbrown(at)jugnoo(dot)com