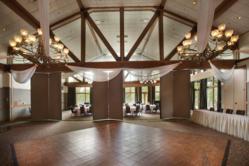 Greenfield, Ind (PRWEB) September 10, 2012
Representing an important evolution in sound transmission control, Modernfold's new Acousti-Seal® Encore™ operable partitions provide an industry-leading acoustical performance level of 56 STC. No comparable product on the market today equals this level of resistance to sound transmission.
All Acousti-Seal products are designed for aesthetic appeal in the widest possible range of operable partition applications. Acousti-Seal® Encore™ is completely trimless, eliminating any sign of visible trim on the face of the panel allowing for seamless transitions into any space.
This product features the new SureSet™ top and bottom seal mechanism which provides automatic operation, eliminating the possibility of set-up errors and providing a superior sound seal for acoustical control. Acousti-Seal® Encore™ can be specified for any installation requiring maximum levels of acoustic transmission control.
"Modernfold is extremely excited to launch Acousti-Seal® Encore™. With an incredible 56 STC rating, Acousti-Seal® Encore™ truly raises the bar in acoustical performance in the operable partition industry," said Julie Birch, Modernfold President.
Acousti-Seal Encore is available finished in fabric, vinyl, carpet and primed steel. Like all standard Modernfold products, it is offered through exclusive Modernfold distributors worldwide.
About DORMA
DORMA is a leading global manufacturer of premium access solutions and services that enable better buildings. Our full range of products and services provides safety and security as well as convenience and comfort. DORMA features a design oriented portfolio of architectural door hardware, specialty hardware for glass door and wall applications,door automation systems including Crane Revolving Door, and operable wall systems featuring Modernfold. DORMA is an international market leader with innovative and inspiring design and technologies for access solutions and services.