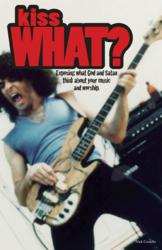 A 16 year old teenager who attended on of Nick's music seminars at the Kingdom Bound 2012 Festival proclaimed, "I read your book and it changed my life."
Canandaigua, NY (PRWEB) September 13, 2012
In KISS WHAT?, Nick states, "I don't believe the creative art form named music is evil. There aren't any evil musical instruments. The instrument or style of music isn't evil. It's the fruit it produces in the hands of the user. Music can be used to promote or advertise good or evil. "
Music can fuel already negative emotions in the heart of a teenager. Dr. Katrina McFerren, lead lecturer from The Melbourne Conservatory Of Music claims, "Young people at risk of depression are more likely to listen habitually and repetitively to heavy metal music in a negative way. Parents should be aware of their kids music listening habits, pick up early warning signs and take early action."
The saying goes, "Garbage in, garbage out." It is echoed in the Bible, "You become like those you hang around." (1 Cor. 15:33) In KISS WHAT? Nick compares music to health food. A teenager can feast on nourishing music whose message promotes healthy, encouraging, hope-filled, positive, constructive teachings or values. Or, they can feast on the junk food of music offering destructive, negative, evil or ungodly messages. "A kid's spiritual, emotional, mental and maybe even physical health can be influenced by the music they listen to," claims Nick.
In KISS WHAT? Nick provides a valuable teaching tool for parents and youth leaders to help teenagers understand the power of their music and offers insights and information to trigger discussions on the topic of music. View promotional book trailer here.
This isn't just another book addressing the issue of music!
Nick is now founder of Nick Costello Evangelistic Ministries. His bio includes being a graduate of The Billy Graham North American Institute For Emerging Evangelists, a popular seminar and conference speaker, freelance writer and worship leader. He speaks to people of all ages throughout North America, helping Christians of all ages mature in their spiritual growth, deepen their faith in Christ and present the hope Christ offers in a relationship with Him.