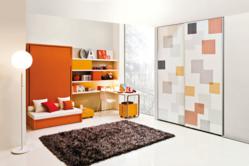 "I believe that a great space should reflect ones reality at a specific point in time. A properly planned space can truly enhance one's quality of life," says Marconi Naziazeni.
Miami, FL (PRWEB) September 11, 2012
Style meets function at this year's HD Boutique in Miami, where Anima Domus -- South Florida's premiere destination for contemporary Italian home furnishings -- will display their electrifying collection of space saving furniture and modern murphy beds by Clei.
Designed for the growing market demand for versatile and multifunctional furnishing solutions, Clei's modern murphy beds and modular systems are a perfect way to effortlessly turn guest bedrooms, home offices, dens, dining and living rooms into dual-functioning spaces with more purpose.
Striving to be at the forefront of cutting-edge Italian design and innovation, and tapping into the realities of contemporary living, Anima Domus is proud to present their collection of transformable furniture for the first time ever at the HD Boutique: A Hospitality Design Event in their hometown of Miami, Florida.
"We pride ourselves on our non-traditional outlook to retail, which is our extensive experience and deep knowledge of design, our products and our ability to find the right solution for any project requirement," says Marconi Naziazeni, owner of Anima Domus. "I believe that a great space should reflect ones reality at a specific point in time. A properly planned space can truly enhance one's quality of life."
With a sleek contemporary design and patented technology, Clei's transformable modular systems are very easy to use, incorporating simple movements for multiple functions and solutions. The systems are extremely durable and are meant to be used on a daily basis. And with the matching Anima Domus Buon Sonno mattress collection, clients don't have to compromise comfort when choosing a murphy bed.
Anima Domus' best-selling collections from Clei include the Lollipop system with a facade that will blend right in with your wall unit, and at night transforms into two twin beds that fold out horizontally from the unit with ease. The Swing system has an integrated sofa and a queen sized bed and makes for a wonderful solution for day-to-day relaxation. With the bed hiding behind the sofa, it is simple to turn this system into a daily sleeper or a comfortable guest solution.
Clei's collection also includes office and desk configurations, such as the Cabrio In. With a soft and simple movement, an office desk disappears and allows for a single bed to come alive.
Customize your Clei unit to fully match your needs with bookshelves and storage units in different lacquers, and upholstery options ranging from leather, to eco-leather, to fabric, or choose one of the many units that Anima Domus carries in stock.
Clei also allows for great solutions for larger, hospitality projects.
Visit Anima Domus at booth #2224 to see the Swing system in action at the HD Boutique.
About Anima Domus
Anima Domus was founded in 1998 by Marconi and Silvia Naziazeni and grew from a small family operation into Miami's premiere destination for high-end contemporary Italian home furnishings. With its emphasis on understanding the needs of each one of its clients and catering to those needs, Anima Domus has become a leading resource for interior furnishings in South Florida. Anima Domus extends special consideration for the trade, offering services such as project development, fabric selection, and custom wall units that are geared specifically toward facilitating an easier purchasing process for its trade clients.
For more information, please visit us online at http://www.animadomus.com, on Facebook http://www.facebook.com/animadomusFL, and Twitter @animadomus