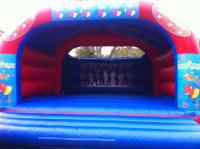 Our rodeo bull and all of the fun foods such as the chocolate fountain, slush machine, candy floss and popcorn may be hired by anyone within the North West
Liverpool (PRWEB) September 11, 2012
SEO Service Group's client has set themselves apart from the competition by offering outstanding customer service, only the best bouncy castles and a high level of safety that is unheard of in the industry. Whether customers need a bouncy castle for a birthday party or a family gathering, MJ Funtime has a castle to fit their needs.
The company was asked why their service has become so popular in the Liverpool area. A company representative responded, "MJ Funtime is your local and one of the leading bouncy castle hire Liverpool companies. We operate a fleet of vans and cover a 20 mile radius from Liverpool airport including towns and villages such as Warrington, Widnes, Runcorn and the Wirral. We charge a small delivery fee to cover our fuel and toll charges if you're further than 10 miles away. Our rodeo bull and all of the fun foods such as the chocolate fountain, slush machine, candy floss and popcorn may be hired by anyone within the North West."
MJ Funtime has employed the services of SEO Service Group to help potential customers find their website by searching for, "bouncy castle hire liverpool", "bouncy castle hire warrington", or "bouncy castle hire wirral" on all of the major search engines.
While many companies only adhere to the standard safety and quality measures required by law, MJ Funtime goes above and beyond. When asked how their business is different than competitors, the company responded, "Each year we invest in all of the latest themed bouncy castles. We are always looking to purchase and hire out new and innovative inflatables to separate us from the competition. There is a lot of choice out there for bouncy castles, and while we don't doubt you may find someone offering a cheap bouncy castle you won't get a better service. You also won't get an old, dirty, repaired bouncy castle. We have a policy here, where by we guarantee the bouncy castle we provide is less than 2 years old."
For more information about MJ Funtime, or to hire a bouncy castle, please visit http://www.mjfuntime.co.uk.
About MJ Funtime
MJ Funtime was established to provide residents in the Liverpool, Warrington, Widnes, Runcorn and Wirral areas a chance to hire a bouncy castle for their special occasions. Birthday parties, kid parties, family gatherings and virtually any other special occasion is the perfect time to rent a bouncy castle from MJ Funtime.