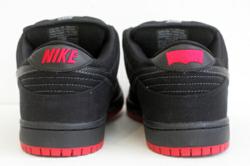 Annapolis, MD (PRWEB) September 11, 2012
Pure Boardshop is very excited about the long awaited release of the Nike SB X Levis Skateboarding Dunk Low Collab. This shoe has been the hot topic around the shop and on all the blogs this summer and everyone is excited to finally hold a pair in there hands. The shoes will be made of Levi's black denim with a leather swoosh and the iconic Nike SB and Levi's logo's on the heels which makes for a very clean overall look and perfect for the fall season if you choose to wear them.
Make sure to check out all the social networks to see when these shoes will be released this week on Facebook, Twitter and Instagram (@PureBoardshop) or give them a call at 410-267-7669.
Pure Board Shop opened its doors on May of 2005. Its ease of access and parking make it a destination shop for riders and urban street ware fans alike. With their mix of products and variety in skate, Snowboard, surf and exclusive streetwear and shoe brands Pure's customers extend far beyond their Annapolis location. Pure prides itself on making customer service its number one priority, with product knowledge and having the right product mix a close second. The store and the website feature an ever growing brand inventory such as Nike SB, Nike Snowboarding, Adidas skateboarding, Vans, Diamond, HUF, LRG, Neff, RVCA and The Hundreds, as well as a large selection of Sunglasses and other accessories. The shop also has an amazing inventory of snowboard goods for men, womens and kids with all the top brands like Burton, Lib-Tech, Gnu, Capita, Union, Nike Snowboarding and 686 to name a few. Plus they have over 25 years of riding experience and knowledge which they always pass on to there customers.