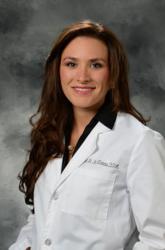 I know how upsetting injuries are to athletes of all ages and it is my goal to get each patient back to participating in what they love.
Columbus, Ohio (PRWEB) September 12, 2012
Central Ohio podiatric surgeon Dr. Danielle McKenna has joined OhioHealth's Grant Medical Center to accept new patients at Step Lively Foot and Ankle Center in Dublin.
Her practice in Dublin, Ohio will allow her to do what she loves, which is treating both adult and pediatric patients and helping them get back to what they enjoy, McKenna said.
"My path to podiatry was encouraged by the incredible role models and mentors in my life including my parents and the talented doctors I learned from in school and residency," she said. "Each inspired me with their kindness and compassion towards patients and I strive to follow their example in my own practice."
Dr. McKenna recently completed her podiatric surgical residency at Grant Medical Center, and received her medical degree from the New York College of Podiatric Medicine. She is also a member of the American Podiatric Medical Association and the Ohio Podiatric Medical Association and is Board Qualified by the American Board of Podiatric Surgery.
As an avid cross-trainer, Dr. McKenna understands the need for fast and effective treatment to help all of her patients get back on their feet as soon as possible.
"I grew up very involved in sports such as basketball, soccer and track and field," she said. "I know how upsetting injuries are to athletes of all ages and it is my goal to get each patient back to participating in what they love after implementing a personalized treatment plan."
McKenna will specialize in all types of pediatric and adult foot and ankle treatments, including heel and arch pain, sports injuries, flatfoot, fracture care and ankle replacements. At Step Lively Foot and Ankle Center, she will accept appointments five days a week with extended hours on Wednesdays, and online scheduling is also available.
Learn more about podiatric physician Dr. Danielle McKenna.
Dr. McKenna is an active member of the medical staff of OhioHealth Grant Medical Center –home of the premier, nationally recognized Bone and Joint Center. Our experts specially trained in the latest minimally invasive foot and ankle treatments provide you with convenient access to the highest quality and most comprehensive foot and ankle care.
About Grant Medical Center
Founded in 1900 in Columbus' downtown, Grant Medical Center has grown into one of the top hospitals in the United States. Grant Medical Center is nationally known for specialized trauma capabilities, surgical excellence and nursing expertise. To learn more about Grant Medical Center, visit http://www.ohiohealth.com/grant.