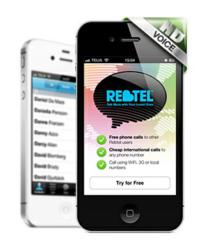 Thanks to HD Voice technology, the maxim, "you get what you pay for," no longer applies to calling long distance," said Andreas Bernström, CEO at Rebtel.
San Francisco, USA & Stockholm, Sweden (PRWEB) September 11, 2012
Rebtel today announced a major step forward in enhancing sound quality for its free voice over internet app. Complementing the introduction of real time communication framework WebRTC earlier this year, Rebtel featuring HD Voice takes advantage of open source voice codec technology iSAC (internet Speech Audio Codec) in its latest suite of iOS and PC applications, and is now available today in the iTunes App Store.
To better serve its growing audience of more than 17 million users, Rebtel's introduction of HD Voice provides users with the highest possible sound quality when making free app-to-app VoIP calls over data networks even in cases when only a slow-connection is available.
"Historically there's been a general perception amongst consumers that VoIP services offer sub-par quality in comparison with traditional operators. Since these services are typically free of charge, consumers have accepted a downgrade in quality. Thanks to HD Voice technology, the maxim, "you get what you pay for," no longer applies to calling long distance," said Andreas Bernström, CEO at Rebtel.
According to a study conducted by Rebtel in March, 2012, which polled 992 U.S. mobile users, 89% stated that having a clear call connection is very important and 78% stated they would be likely to switch carriers due to poor network performance. Important to note is that nearly 40% of those surveyed also claimed to experience more than five dropped calls a month. Based on this customer feedback, Rebtel focused its latest product, HD Voice, aimed at improving upon end user experiences.
"Consumers typically resort to VoIP for specific use cases, such as when calling internationally to friends and family, and based on research we conducted, call quality is a hugely important feature for them. With major improvements to the Rebtel service, we can confidently say Rebtel's voice quality is on par with operator-powered services, but either at a fraction of the cost, or absolutely free," Bernstrom said.
iSAC is a wideband voice codec commonly used in various types of VoIP applications. Originally developed by GIPS (Global IP Solutions), it became available as an open source technology as a part of the WebRTC project when Google acquired GIPS in 2010. One of numerous benefits of iSAC is its ability to adapt to the users bandwidth conditions and not be dependent on a high-speed data connection in order to facilitate crystal clear, high quality voice calls.
About Rebtel
Rebtel is the world's largest mobile VoIP company after Skype. Today, Rebtel is growing rapidly with more than 17 million callers with a run rate of over 1 billion minutes per year. The company is on pace to hit $85 million in revenue run rate end of 2012. Rebtel users call through smartphone or desktop applications or any other phone to make free or cheap international calls. For more information, or to start using Rebtel, go to http://www.rebtel.com.