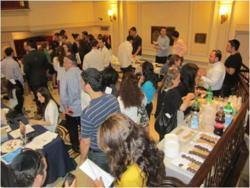 Sometimes selling tickets wrongly taints the spiritual experience
Brooklyn, NY (PRWEB) September 11, 2012
Park Slope Jewish Center is selling High Holiday tickets for $450 and East Midwood Jewish Center's are $150 -and they don't include a dinner. Throughout history the sale of High Holiday tickets helped synagogues defray the various expenses that accrued throughout the year. So why is a grassroots Brooklyn educational organization doing this all for free?
"We want to send a message to Jews all across Brooklyn that they are important and valued members of the Jewish community. Let them come and feel like family. When you invite family, do you ask them to pay for tickets?" says Rabbi Yitzchak Fingerer founder and director of Brooklyn Jewish Xperience (BJX).
"We want YJPs to have a chance to experience the services without any pressure. Sometimes selling tickets wrongly taints the spiritual experience", adds Rabbi Moshe Fingerer, a business professional and BJX's volunteer executive director. "BJX is a grassroots Jewish educational organization that does not receive any public funding. We survive on private donations, and while we would surely benefit from selling tickets, why should we benefit at someone else's expense?" rhetorically asks the Rabbi. "What sets us apart from other organizations is that all of our classes, dinners, and events are always free—and we run five programs each week. People come from all over Brooklyn, including Park Slope and DUMBO. While our enrollment is expanding, we don't have a place to call home. We don't have a center. Every week we move to a different location," says the Rabbi.
Rabbi Yitzchak Fingerer, renowned author and radio personality (he can be heard every Wednesday morning on 97.5FM), will lead the explanatory prayers and inspiration, which will take place in a gorgeous ballroom in the suburban, upscale neighborhood of Midwood. Guests will be wined and dined with a multi-course gourmet holiday dinner served by one of Brooklyn's premier caterers.
This is an opportunity for anyone wishing to welcome the Year with a clear, explanatory service and a delicious Rosh Hashanah dinner. "Tell your friends and let them come and enjoy an awesome holiday experience," says Bill F. a BJX alumnus. The Jewish New Year begins on Sunday evening, September 16th. Services are at 7 p.m., followed by dinner. To be added to the guest list, make your reservation no later than September 13. RSVP is available here: http://www.BrooklynJewishEvents.com.
Brooklyn Jewish Xperience educates, empowers, and inspires Jewish college students and young professionals throughout Brooklyn to be the leaders of tomorrow. BJX's innovative and exciting programs help students explore a rich and meaningful Judaism. To enable BJX to keep its programs free of charge you may donate here: http://fundly.com/brooklynjewishxperience or call 646-397-1544.