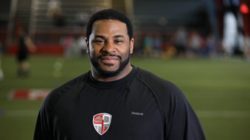 "I think the 49ers were the biggest story of the week," says Bettis.
Nashville, TN (PRWEB) September 10, 2012
This week, NFL legend Jerome Bettis rates rookie and veteran quarterback's performance, from Andrew Luck and Russell Wilson to Michael Vick and Peyton Manning.
"No one should be shocked that Michael Vick threw four interceptions on Sunday," says Bettis. "When you don't play the preseason you don't get a feel for game speed, and then everything speeds up when the regular season starts. I think losing practice time because of the rib injury really hurt Vick. He was very rusty, his throws lacked precision and his decision-making wasn't sharp."
Bettis also predicts that the San Francisco 49ers are the team to beat.
"I think the 49ers were the biggest story of the week," says Bettis. "Their offense is more explosive with Michael Crabtree stepping up and showing he's ready to be the No. 1 receiver, and with Randy Moss still commanding respect and having an impact, even though he wasn't in for a lot of plays. It's crazy to talk about Super Bowl favorites in Week 1, but the 49ers clearly have to be a favorite to get there. They lost in the NFC championship game last season and now it looks like they're ready to take the next step. I look for them not only to be a Super Bowl contender, but to be the favorite to get home-field advantage."
For Jerome Bettis' blog, visit bettis36.solt.com
More About School of the Legends / SOTL.com
SOTL.com was founded in 2009 as the official social media partner of the NFL Players Association and serves as "The Voice of the Players"™ with more than 2,500 current and former players contributing to the site. SOTL.com features weekly football and lifestyle blogs by dozens of NFL players and alumni, including Jerome Bettis, Barry Sanders, Patrick Peterson, Will Smith, Dwayne Bowe, Cliff Avril and others. SOTL.com is the player's site where they comment directly on football news stories of the day and contribute to exclusive player polls that give fans their perspective on the league's most important issues.
The sister site, SOTLTraining.com, is the largest online source for football training classes with the instructional video series "Legends in Training" that feature players such as Peyton Manning, Larry Fitzgerald and Tony Gonzalez to name a few as well as instruction from professional coaches and trainers. SOTL.com and SOTLTraining.com are officially licensed partners of NFL Players Inc.