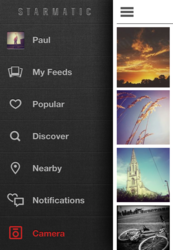 We have tried to recreate the feeling that you experience when browsing beautiful lifestyle magazines or photo books.
London and Paris (PRWEB) September 11, 2012
Starmatic, a new toy-camera app and visual creativity platform based on the legendary Kodak Brownie Starmatic, today announced its debut in the Apple App Store.
The app crafts a new visual and social experience by putting picture and user experience quality center stage, while simultaneously modeling a much beloved toy camera from Eastman Kodak made during the late 1950s. Fun to use, but with deep feature set, Starmatic is designed to attract serious iPhoneographers as well as entry mobile photo enthusiasts. Download the app for free now here.
"We have tried to recreate the feeling that you experience when browsing beautiful lifestyle magazines or photo books" said Jean-Philippe Evrot, director and co-founder of Starmatic. "The idea behind Starmatic is to create a unique community where anybody can express its photographic talent and to develop it by being inspired by photos of others users."
"Starmatic is a tribute to the timeless genius of George Eastman, founder of Kodak, who aimed at making photography effortless" added Arnaud de Lummen, director and co-founder of Starmatic. "In conceiving Starmatic, we have attempted to revive a spirit, an old way of taking and enjoying photographs through fun and simplicity."
Several editing features and filters set Starmatic apart from the current crop of iPhone photo apps. The filters are grouped as rolls of film (a wink to the 127 negatives used by Starmatic cameras) and the app even comes with the "Starmacolor" film, featuring 16 filters for a variety of color processing not found in previous apps -- a differentiator that took several extra months developing in iOS and that was done in collaboration with experienced iPhoneographers and Brownie lovers.
For more demanding users, the "Starmachrome" film features 10 filters offering a soft and elegant color palette and subtle contrasts which are available to download as in-app purchases for 0.79€ or 0.99$. More films will be available soon to satisfy all photographer's unique tastes like a black & white film, etc.
**What makes Starmatic different**

A focus on qualitative experience rather than quantitative. Like Vimeo vs. Youtube, or 500px vs. Flickr.
A beautiful and sleek user interface.
Unique gestures for browsing between pictures and within picture streams.
Repost others pictures and easily track/organize favorites. Users instantly see others most liked and favorited.
Discovery section highlights trending tags, photos near you and most interesting users of the moment. Search tool browses to easily find pictures, tags and users and all results within one screen.
A camera app that emulates functions and the feel of the legendary Starmatic camera.
Square, portrait and landscape pictures can all be imported. Vertical pictures can be viewed on full screen.
Rich offer of filters, organized by family in a playful manner, and planned to grow.
**Early Buzz for Starmatic**
"Starmatic is a new and interesting photo sharing app with some unique features that will appeal to many photographers, and an app that offers a serious alternative to other social networks like Instagram, for those who are looking for that alternative." -- Glyn Evans, founder and editor of iPhoneography.com (http://www.iphonegraphy.com), the world's first iPhone photography blog.
"I feel there is a large group of Photography-centric Instagramers that feel like they are in the wrong neighborhood and want to move out. Starmatic has the potential to be that home" -- Dan Marcolina, author of the iPhone Obsessed book dedicated to iPhone photography.
**Notes to editor**
Starmatic was Kodak's first toy-camera by virtue of its simplicity and relative cheapness. It featured a cute shape, distinctive look, small and lightweight construction, yet featured a built-in exposure meter, a fixed focus Kodak lens, and shot 127-roll-film.
During its production period of April 1959 – August 1963, Kodak manufactured and sold more than 10 million Starmatics worldwide. The founders of Starmatic purchased just such a camera and experienced a new found excitement around photography they aim to bring to Starmatic. Watch a commercial for Kodak Starmatic cameras here.
Today, the Starmatic trade mark is owned by Starmatic S.A. and is no-longer associated with Eastman Kodak.