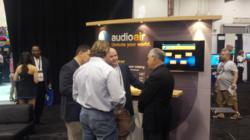 We've heard from tech influencers that we are indeed disruptors, so it seems fitting that we bring Audioair to the show.
Durango, Colorado (PRWEB) September 12, 2012
Durango based Airborne Media Group, Inc. ("Airborne") announced today that it will participate as an Exhibitor Sponsor at TechCrunch Disrupt SF 2012 this week. The company seeks to showcase their groundbreaking product Audioair®, which has been lauded by some in the tech space as a disruptive technology.
TechCrunch Disrupt SF 2012 (http://techcrunch.com/events/disrupt-sf-2012/) is TechCrunch's sixth annual conference in San Francisco. The format combines top thought-leader discussions with new product and company launches. During morning executive discussions, technology-driven disruptions in many industries will be debated. Afternoons are reserved for the Startup Battlefield, where 30 new companies will launch for the first time on stage, selected to present from more than 1,000 applications received from around the world. The winning company will receive a $50,000 grand prize and the Disrupt Cup at the conclusion of the conference. The conference is Sept. 10-12, 2012, at The Concourse at San Francisco Design Center located at 635 8th St. (at Brannan) in San Francisco's downtown SOMA district.
The Audioair® patent-pending technology permits mobile device users to privately listen using their mobile device to television displays and digital screens in Sports Bars and Restaurants, Casinos, Stadiums, Airports, Athletic Clubs—anywhere a television or digital display has been muted for noise level considerations. Airborne's free mobile application is available in the App Store and Google Play marketplace, and is designed to interface with a proprietary Audioair® system that's installed on premise. The wifi-enabled app then allows users to listen to any muted television or digital screen displayed on site, as well as enjoy social chat features, Facebook check-in, digital screen interactivity and receive location-driven content. Airborne's proprietary Audioair® platform also provides a dedicated mobile media channel, giving local and national brands the opportunity for highly targeted mobile marketing campaigns with interactive and location-based ad content distributed to users on the Audioair® network.
Cordell Brown, Airborne CEO stated, "TechCrunch Disrupt is a place we know we need to be – not only to learn more about the hottest products hitting the tech industry now, but to also make our presence known in the disruptive technology space. We've heard from tech influencers that we are indeed disruptors, so it seems fitting that we bring Audioair to the show. "
Mr. Brown added, "If the only capability Audioair had was allowing people using Smartphones to hear what they've been missing in their favorite venues, it would be a breakthrough product. But the fact that it is a very effective way for a Sports Bar and Restaurant Owners, Casinos or Brands to interact with customers before, during, and after they leave the premises, this makes it a highly marketable product that can be monetized, as well."
Airborne intends to make several major announcements from the TechCrunch show floor next week.
########
Airborne Media Group, Inc. is a privately held corporation founded in 2010. Its newly invented technology is designed to deliver an entirely new entertainment, news and information distribution experience by permitting the users of smart phones to privately listen in to televisions in all types of venues where they must be muted for noise considerations. The company has created and is expanding a team of strategic and technical partners, as well as a new sales distribution system to further develop its technology and achieve its ambitious sales and marketing goals.
Airborne Media Group and Audioair® are registered trademarks of Airborne Media Group, Inc. in the United States and/or other countries.
The names of actual companies and products mentioned herein may be the trademarks of their respective owners.