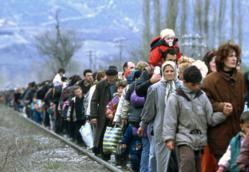 "Transitional justice should be concerned with displacement because displacement can be linked to serious human rights violations."
New York, NY (PRWEB) September 12, 2012
The International Center for Transitional Justice (ICTJ) announces the completion of the first systematic research project on the relationship between forced displacement and transitional justice measures such as trials, truth commissions and reparations programs.
Transitional Justice and Displacement, a two-year research project conducted in collaboration with the Brookings-LSE Project on Internal Displacement, focused on Central Africa, Colombia, Israel-Palestine, Kosovo, Liberia, Peru, Timor-Leste, Turkey, and the former Yugoslavia.
The study's findings suggest that where forced migration is linked to serious human rights violations, transitional justice measures including truth-seeking, criminal trials and reparations should be incorporated into broader responses to displacement in a coherent manner.
"Transitional justice should be concerned with displacement because displacement can be linked to serious human rights violations," said Roger Duthie, lead researcher for the project and a senior associate in ICTJ's Research Unit.
Duthie says the project examined the capacity of transitional justice measures to address displacement, engage the justice claims of refugees and internally displaced persons, and support durable solutions.
"When we started the process, we knew that massive displacement was often part of the context where transitional justice mechanisms were implemented," said Duthie. "But it wasn't something that transitional justice measures had addressed as specifically as other abuses."
The project's thematic studies were published in the book Transitional Justice and Displacement, edited by Roger Duthie. The book features contributions by leading practitioners in the field, and presents new interdisciplinary research on displacement as it relates to reparations, truth-telling, security sector reform, gender justice and more.
A project report titled Transitional Justice and Displacement: Challenges and Recommendations offers specific guidance to policymakers and practitioners in the numerous fields that share a concern with displacement, including transitional justice, humanitarianism, peacebuilding, and development.
A number of additional resources- including 14 case studies and an interactive displacement map- are now available on ICTJ's website.
Transitional justice is often pursued in contexts where people have been forced from their homes by human rights violations and have suffered additional abuses while displaced. Transitional justice measures include prosecutions, truth commissions, reparations programs and reforms of key institutions, and aim to redress the legacy of massive human rights violations.
About ICTJ
ICTJ assists societies confronting massive human rights abuses to promote accountability, pursue truth, provide reparations, and build trustworthy institutions. Committed to the vindication of victims' rights and the promotion of gender justice, we provide expert technical advice, policy analysis, and comparative research on transitional justice measures, including criminal prosecutions, reparations initiatives, truth seeking, memorialization efforts, and institutional reform. For more information, visit http://www.ictj.org.
Contact
Refik Hodzic, New York
Office +1 917 637 3853
Cell +1 917 975 2286
rhodzic (at) ictj (dot) org