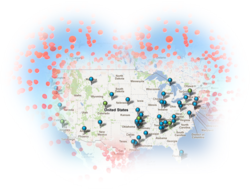 Philadelphia, PA (PRWEB) September 11, 2012
After releasing a series of new features recently, the web start-up uencounter.me, began to see an immediate increase in the number of public maps being created for foundations or groups that were interested in demonstrating geographic support. It began with a user who was active on a Facebook page for a child from Oklahoma, struggling with complications from a congenital heart defect. This uencounter.me user created a map and then shared it via the page, asking people to pin their locations so that the child's family could visualize the global encouragement and prayer they were receiving. The uencounter.me team reports being humbled by people using their application in a display of support for a family during such a difficult time.
Uencounter.me Co-Founder and CEO Leslyn Kantner stated in a recent blog post that the site was conceived with an expectation to raise awareness for gratitude and that the team feels strongly about effecting positive change around the globe. "This first public map was so in-line with our core values that we made the immediate decision to help make it easier for foundations and non-profits to demonstrate their own good work," she adds.
In addition, the team has committed a percentage of its revenues to foundations and non-profits that create a map of this nature. In her blog post, Kantner stated that 90% of revenue generated for AD FREE accounts during the week (09/09/2012 – 09/15/2012) will be donated to the "I Love Liam Lyon Foundation" in honor of the first public map created.
In order for the accounts to be upgraded for free, the account must create a map that pins gratitude, support, prayer, or some other element of 'goodness.' For example, Gracie's Gowns is not officially a non-profit but a small group that offers free handmade hospital gowns to infants and children in hospitals. She has begun pinning the places across the country where gowns have been distributed and has included the map on her blog. "Our philosophy is to pay it forward," claims Kantner, "and we want to help promote as much good work as we can as we promote and build our pin map platform."
Non-profits and people working to make a difference are encouraged to create a free account, begin pinning, and then contact the admin team at uencounter.me to see if they qualify for the free upgrade to Partner Level membership.