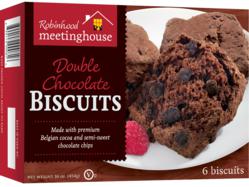 Bath, Maine (PRWEB) September 11, 2012
Gagné Foods, a frozen foods manufacturer specializing in biscuits, pastries, and pie doughs, joined Prepared Foods in Palm Beach, FL on September 10 for the annual New Products Conference where their Double Chocolate Biscuit took second place for the Excellence in Innovation (EII) for Foodservice Awards. Sponsored by Prepared Foods and the American Egg Board, the EII Awards present a unique opportunity for companies and their product development teams to be acknowledged for the innovation used to design and launch successful new products.
"Taking something as simple as a biscuit and exploring the variety of ways to make it innovative has been a driving force behind our business since the beginning," said Michael Gagné, acclaimed chef and president of Gagné Foods. "To achieve recognition for this aspect of food manufacturing is a great honor for us."
The Double Chocolate Biscuit, made by Gagné Foods and sold under the company's Robinhood Meetinghouse brand, is one of three recently released products by the frozen foods manufacturer. The biscuit is made according to Chef Gagné's signature recipe that he developed over 30 years ago. The method features the French technique of sheeting and laminating the dough, which creates a unique flakiness and airiness rarely found in biscuit recipes. With Chef Gagné's signature Cream Cheese Biscuit recipe and his use of rich, high-quality chocolate chips and cocoa powder, consumers have a wholesome yet not overly sweet dessert biscuit to bring to the table for special occasions and indulgences.
The food and beverage industry's R&D, Marketing and Executive Management professionals, gathered for the Prepared Foods' New Products Conference September 9-12, 2012, to gain valuable insight into new food and beverage products produced by companies around the world. This conference presented an opportunity for the industry's movers and shakers to get a first look at exciting new consumer trends.
All of Gagné Foods' products are made with special care and attention and include real New England butter and all-natural ingredients. They are free of preservatives, colorings, trans-fats, corn syrup and genetically modified organisms (GMOs). The products are also free of yeast and eggs. Gagné Foods currently sells its products to a variety of channels, including: retail bakery, frozen grocery, foodservice, private label and contract manufacturing. To purchase any of Gagné Foods' products, consumers and buyers can head to http://www.gagnefoods.com for more information.
About Gagné Foods
Based in Bath, Maine, Gagné Foods is a family owned frozen baked goods manufacturer specializing in biscuits, pastries and pie doughs. Over thirty years ago, acclaimed Chef Michael Gagné was inspired to challenge the traditional recipe for southern biscuits while cooking at a historic Virginia inn. Using the French process of laminating and sheeting the dough and replacing lard with real butter and cream cheese, Chef Gagné's biscuits achieved a uniquely light and airy texture that made them an instant favorite among restaurant patrons. In 2006, Gagné Foods was founded to make his beloved baked goods available to a variety of channels, including: retail bakery, frozen grocery, foodservice, private label and contract manufacturing. Gagné Foods also operates its own consumer brand of frozen baked goods, Robinhood Meetinghouse. All Gagné Foods products use only the finest, all-natural ingredients and contain no genetically modified ingredients (GMOs). For more information, please visit http://www.gagnefoods.com.