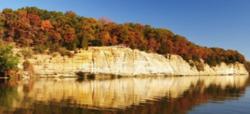 We never get tired of hearing how beautiful [Ottawa] is.
Ottawa, Illinois (PRWEB) September 11, 2012
It's almost fall, but according to Heritage Harbor Ottawa, that doesn't mean boaters have to get off the water. For Midwest fall boating beauty, one word needs to come to mind — rivers, specifically the Illinois River.
Although some boaters may get ready to pack up the boating season after the Labor Day holiday, they are missing out on some prime boating conditions in the early fall. Many boaters actually prefer autumn. The air is crisp and clear, making the issue of fog nearly nonexistent. Also, there tends to be a more dependable breeze on the water.
Along the Illinois River, boaters have the ease of traveling a short distance and still being able to see beautiful vistas showcasing the fall foliage range of colors. This is especially true of the Illinois River Valley area in Starved Rock Country and Ottawa, Ill.
Ottawa sits on the Illinois River Road National Scenic Byway and for good reason. Located in the heart of Starved Rock Country, they city sits at the confluence of the Illinois and Fox Rivers. Ottawa is accustomed to welcoming new visitors in search of adventure, beautiful sites, history and a good time.
The marina resort community Heritage Harbor makes river travel in the fall – and every other season — a breeze, especially since boaters can hit the water until Oct. 31 during its marina season, a big perk of the usually shorter lake boating season.
Heritage Harbor Ottawa, which was named Illinois's Best Waterfront Vacation Resort Community in 2011, sits right on the shore of the Illinois River with a full-service marina and more than 450 boat slips. Waterfront properties from elegant homes and charming cottages are also on-site along with a waterfront restaurant and bar, Tracy's Boat House, beach volleyball court and a helpful staff willing to assist boaters.
Every year, Ottawa is a tourist destination for visitors across the Midwest.
Julie Johnson, executive director of the city of Ottawa Visitors Center says the "Fall Color Weekends — as they have become known" are great one-tank getaways for travelers from the entire Chicago Metro area.
"Since this natural (fall season) event runs multiple weeks, visitors have a wide variety of dates and events to choose from," Johnson added. "Ottawa is conveniently situated just 80 miles from downtown Chicago and sits just off Interstate 80. So, visitors just have to remember to pick '80 on 80' to start their fall colors experience."
From the river, unique views can be seen of the Illinois River Valley, including Buffalo Rock and Starved Rock State Park with its iconic sandstone rock and cliffs. Boaters also have the option to dock on one of Ottawa's public docks and traverse the town or travel the short distance by road from Heritage Harbor's marina.
Anyone interested in diverse watercrafts should also be prepared to see larger and more unique boats on the river during the fall. Heritage Harbor and Ottawa are stops on the Great Loop. America's Great Loop is a circumnavigation of Eastern North America by waterways. The Illinois River is a portion of the western loop and brimming with Loopers during the season.
"Our Old Town Downtown [in Ottawa] has been planted with lush walkways, boasts specialty and antique shops and some of the county's oldest and best restaurants and gastro-pubs. Virtually everyone comments on the beautiful gardens, great landscaping and the home-spun atmosphere. We never get tired of hearing how beautiful our city is," Johnson said.
For more Ottawa, Ill., boating information and Heritage Harbor Ottawa, contact Tammy Barry at 815-433-5000.