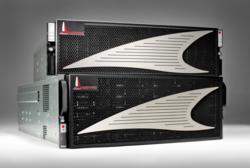 Starboard Storage's innovative AC Series exceeds our customers' price/performance requirements.
Broomfield, Colo. (PRWEB) September 11, 2012
Starboard Storage Systems, the leader in simplicity for hybrid storage, today announced it has been selected by CRN as a 2012 Emerging Technology Vendor. Each year, CRN looks at the hot tech startups making an impact on the channel and impression on the tech industry as a whole. Each vendor must have a strategy to leverage the channel to go to market. CRN Emerging Technology Vendors must be founded in 2006 or later, have revenue under $1 billion and have an active U.S. channel strategy.
CRN's Emerging Vendors know the value of good channel partnerships. Starboard Storage is 100% committed to the channel and has built a network of high impact, Value Added Resellers (VARs) that share the goal of bringing hybrid storage solutions to market and to Small and Medium Enterprises. VARs can leverage the Starboard Champion Partner Program's resources and best practices to quickly bring the price/performance benefits of hybrid storage to their customers.
"We are committed to bringing our customers best-of-breed storage solutions for high performance enterprise solutions," said Kush Hathi, chief executive officer of SoftNet Solutions. "Starboard Storage's innovative AC Series exceeds our customers' price/performance requirements and Starboard makes getting the product to market easy with their Champions Partner Program. The program provides exemplary marketing, sales and customer service resources and support."
Final selection to the Emerging Technology Vendor list was made by the CRN editorial team after a review of submitted information. To view the list and editorial comments visit http://www.CRN.com.
The Starboard Storage AC Series™ is hybrid storage designed to provide solid state performance for active data, while keeping data at rest stored on cost-effective hard disks. The AC Series dramatically simplifies managing modern application workload environments which include unstructured, virtualized and structured data. Starboard eliminates SME customer pain points with its Mixed Application Storage Tiering (MAST™) architecture. The MAST architecture is built from the ground up and features SSD acceleration tiering and dynamic storage pooling with simplified provisioning and management through Starboard Storage Apps™.
The Starboard Storage AC Series is ideal for storage consolidation supporting multiple protocols, including NFS, CIFS, iSCSI and Fibre Channel, and enabling ease of management for mixed workload environments. The AC Series' capacity can be expanded on-the-fly up to 576TBs with automatic load balancing across new drives as they are added. Drive speeds and capacities can be mixed and matched within Starboard Storage AC Series.
For more information on Starboard Storage please contact Starboard Storage sales at sales(at)starboardstorage(dot)com or 855-790-9996.
About Starboard Storage Systems:
Starboard Storage tackles the toughest storage problem facing Small and Medium Enterprise IT administrators today — managing today's application workloads that include unstructured, virtualized and structured data. Starboard Storage AC Series delivers on the promise of sophisticated yet easy-to-manage hybrid storage for multiple application workload environments. Starboard's Dynamic Storage Pool™ and SSD Accelerator Tier™ deliver industry leading performance for less. For more information, please visit Starboard Storage website. Follow us @Starboardstorag on Twitter: http://twitter.com/starboardstorag.