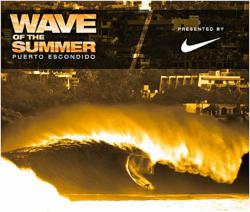 It feels good to win, but I don't come here to win money or get famous - Greg Long
Huntington Beach, CA (PRWEB) September 12, 2012
It was announced today that Greg Long, from San Clemente California, widely considered one of the best watermen in the world, has won Surfline's Wave of the Summer presented by Nike.
The Wave of the Summer event was a three-month quest for the single best ride at Puerto Escondido's Playa Zicatela in Oaxaca, Mexico, a notorious bone crushing big wave beachbreak in Southern Mexico. Entrants from around the globe submitted video of waves ridden between June 1st and August 31st, 2012.
Submitted rides were then judged by a panel consisting of longtime Puerto Escondido surfer and big wave legend Peter Mel, iconic Zicatela surf photographer Ruben Pina, and two of Mexico's most revered surf legends, Roger Ramirez and Roberto Salinas.
"Greg's winning wave was good size with good tube time and a nice, clean exit," said Pina, adding, "Greg's left bomb was also spectacular."
In addition to the single best ride a special Overall Performance Award presented by the State of Oaxaca Tourism and $5000 was given to Oscar Moncada for his consistent and aggressive pursuit of the best waves Puerto Escondido had to offer this year.
"It's exciting to celebrate such a unique Puerto season, as well as the participation by the world's best," said Zach Boon, Nike North America Brand Manager. "The support of the local Oaxacan lifeguard association has been crucial to the success of the Wave of the Summer and we look forward to the future of working alongside the booming Mexican surfing community."
Long and Moncada were presented with their awards in Puerto Escondido in front of an honorific crowd of Oaxacan surf legends and dignitaries. In addition to Long's winning wave, this season he also caught what many believe to be the biggest wave ever paddled into at the break. Long, one of surfing' finest dignitaries, accepted his award in Spanish.
"Puerto is one of the most amazing waves in the world and also one of the most dangerous," said Long, 29 who has been coming to the Mexican Pipeline since he was a teenager. "It feels good to win, but I don't come here to win money or get famous. I love the challenge and the feeling I get when I'm surfing out there."
All Wave of the Summer entries can be viewed at Surfline http://www.surfline.com/surf-news/wave-of-the-summer/. All waves, in addition to Greg's winning wave can be downloaded on Vimeo at https://vimeo.com/48921942.
Surfline would like to extend a special thank you to this year's Wave of the Summer presented by Nike judges, Peter Mel, Ruben Pina, Roger Ramirez. We'd also like to thank Roberto Salinas as well as Adriano Davo, Edwin Morales and the Oaxacan Surfing Association. And, of course, we'd also like to thank Nike and the Oaxaca Tourism Board for their support of this special event.
About Surfline/Wavetrak, Inc.
Surfline is the leading provider of surf report, wave and wind forecast and editorial surfing content to consumers, businesses and government agencies worldwide. Headquartered in Huntington Beach, California, Surfline delivers timely, accurate and comprehensive data on a daily basis via wireless web and the Internet. Surfline has an extensive camera network of over 150 surf cams. The company's world-renowned website, Surfline.com, is visited by over 120,000 unique people per day and over 1,500,000 per month -- the largest and most loyal audience of surf and beach enthusiasts in the world. Since 1985, Surfline has merged premier surf report, forecast and editorial talent with industry-leading technology to produce content of unparalleled quality aimed at active participants in the sports of surfing, windsurfing, stand-up paddle boarding, and bodysurfing. Surfline/Wavetrak, Inc. also produces Buoyweather.com, which focuses on marine weather and forecasting around the world. Buoyweather is an in-depth marine forecasting tool utilized for fishing, marine weather and forecasts, boating, yachting and more. For more information on Surfline and Buoyweather, please visit http://www.surfline.com or http://www.buoyweather.com, check out our Facebook pages at http://www.facebook.com/surfline or http://www.facebook.com/buoyweather, and follow us on Twitter at: http://www.twitter.com/surfline.
About NIKE, Inc.
NIKE, Inc. based near Beaverton, Oregon, is the world's leading designer, marketer and distributor of authentic athletic footwear, apparel, equipment and accessories for a wide variety of sports and fitness activities. Wholly-owned Nike subsidiaries include Cole Haan, which designs, markets and distributes luxury shoes, handbags, accessories and coats; Converse Inc., which designs, markets and distributes athletic footwear, apparel and accessories; Hurley International LLC, which designs, markets and distributes action sports and youth lifestyle footwear, apparel and accessories; and Umbro Ltd., a leading United Kingdom-based global football (soccer) brand. For more information, Nike's earnings releases and other financial information are available on the Internet at http://investors.nikeinc.com.