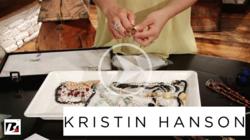 "New York's reigning queen of colored diamonds, high end art and modern jewelry."
New York, NY (PRWEB) September 11, 2012
Kristian Hanson
The Kristin Hanson lifestyle brand is a synthesis of high art and brazen inspiration combined to bring you closer to the Core of Luxury. Kristin's new reality tv series on BizCastr.tv takes us on a journey of her past, present and future, giving us insight into the mind of an artistic entrepreneur. We see that how with a little help from her partner, Candace and her dog, Tinka, Kristin is able to manage her developing multi faceted jewelry design company.
http://bizcastr.tv/kristinhanson
http://www.kristinhanson.us
BizCastr.tv
BizCastr creates and launches reality webseries focusing on dynamic businesses and the people that fuel them. Through entertaining, character-driven episodes, businesses and viewers can interact like never before. BizCastr aids companies in producing a level of brand recognition and customer loyalty that engages and creates a loyal following.
@BizCastr
http://bizcastr.tv/