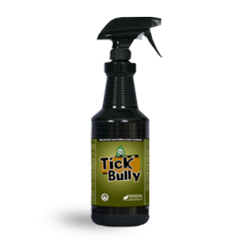 ...for that elimination to be effective without being harmful to anybody's health, MyCleaningProducts brought out its new and non-toxic Tick Bully.
Boston, MA (PRWEB) September 21, 2012
Ticks are among the most common pests that domestic animals and even humans can come in contact with. Their presence can bring in a lot of problems in several aspects. For that, they just have to be eliminated. And for that elimination to be effective without being harmful to anybody's health, MyCleaningProducts brought out its new and non-toxic Tick Bully. Additionally, the company decided to offer it with 10% discount as its introductory special.
Watch the Video Demonstration of Tick Bully's Effectiveness
There are different species of ticks that could infest a place. But generally, there are the hard ticks or Ixodidae and the soft ticks or Argasidae. They differ in a lot of ways from their physical characteristics to their biting effects.
However, there is one general truth that makes those two tick families the same: they both bring in problems in health and money. Particularly, their biting, although at times painless, can bring in multiple microbes to their hosts. And those hosts could either be human or animals.
Among the specific illnesses and harmful effects of the said pests' presence are Lyme disease, Babesiosis, Q fever and African cattle disease. To humans, the symptoms of those diseases could include flu-like symptoms, fever, numbness, confusion, weakness and shortness of breath. On the other hand, to animals, on the herd basis, especially, symptoms could include loss of appetite and loss of blood which can lead to the decreased production of the animals. That, in return, can lead to economic problems.
To treat to those annoying effects of ticks, there are different treatments available for humans and animals. However, victims should expect that they are not cheap. So before preparing for any medical treatment for the effects of tick bites, one should learn first how to control the possible presence of the blood-fed pests, said MyCleaningProducts.
As it shared, there are actually many practical ways to prevent contact with the eight-legged creature. Keeping pet dogs and cats tied is one of the ways that it cited.
However, in addition to those ways, MyCleaningProducts pointed that a product to kill the ticks promptly is also needed. With it ready, it stated that the increase in population of the pests is prevented.
Find the Best Tick Elimination Product Today
But of all the tick elimination products out there, the company said that homeowners and pest contractors should pick a non-toxic solution. That is to ensure that the elimination of the ticks is safe. And so, it recommended the use of its Tick Bully promising that it will get rid of the said harmful insect effectively without compromising the health of the users and others that could be exposed to the solution.
To show the value it gives to it clients, MyCleaningProducts also decided to sell the solution with 10% discount. Buyers just have to enter the code "PR10" at checkout to get the price cut. And as if that's not enough, it also chose to offer its 5 Gallon and 55 Gallon Drums of Tick Bully with free shipping.
Take Advantage of the Big Savings. Order Your Tick Bully Now