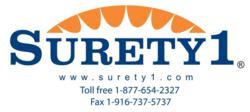 there is no easier way to apply for credit counselling surety bond, now customers can get the bond quickly, at the lowest cost in the industry without sacrificing any service
Sacramento, CA (PRWEB) September 12, 2012
Surety Solutions Insurance Services, Inc. (Surety1) now has an on-line application available for Colorado Debt Management Companies. Debt management companies are commonly referred to as credit counselling companies. Per the Colorado Uniform Debt-Management Services Act, any company that offers services as an intermediary between an individual and one or more creditors of the individual for the purpose of obtaining concessions, would need to register with the state of Colorado. The state usually requires an original $50,000 bond be filed as part of the registration process. Now companies can apply for the surety bond online saving both time and money.
John Page, President of Surety1 says, "There is no easier way to apply for credit counselling surety bond, now customers can get the bond quickly, at the lowest cost in the industry without sacrificing any service."
It is important to understand that a Colorado Debt Management Companies surety bond does not protect the company that purchases the bond; it guarantees the state of Colorado that all financial and state regulations will be properly followed by the company.
Surety Solutions Insurance Services, Inc. is an independent insurance agency based in Rancho Cordova Colorado, specializing in the placement of surety bonds and other specialty insurance products.
For more information on obtaining a Colorado debt management surety bond, you can contact Surety Solutions through its website, http://www.surety1.com, by calling toll free, 877-654-2327 or e-mail, info(at)surety1(dot)com