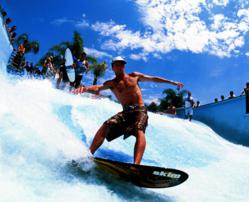 Scottsdale, AZ (PRWEB) September 11, 2012
The much anticipated opening of the first boardsport simulator in Scottsdale, Kierland FlowRider at The Westin Kierland Resort & Spa, will open in September, followed by a FlowRider Festival Grand Opening Event the weekend of October 5th – 7th, 2012. Families staying on the FlowRider Festival Weekend Package will be able to experience all the FlowRider FUN, all weekend long.
Bringing the California beach lifestyle to the Sonoran desert of Scottsdale, the FlowRider wave technology by Wave Loch™ will attract youth, families and all boardsport enthusiasts. "There can be a sea of sameness among what Resorts offer in the mindset of the consumer. We feel this really differentiates us and provides the guest something completely different to enjoy," said J. Bruce Lange, Managing Director at The Westin Kierland. "As the board enthusiast culture continues to grow, we looked closely at our Resort offerings and felt this was a segment that was underserved. The FlowRider engages the entire family which is the theme of most of our activities, programs and amenities."
This $2.4 million project will be managed by the Resort's very own "Wave Master," selected through a unique job search process, where the finalists submitted a video along with their application and will compete in a 'surf-off' for the dream job during the FlowRider Festival. The 6,000 square foot dual Kierland FlowRider will include a viewing platform, seating and retail space, with 'board passes' available to purchase per hour. Kierland FlowRider will be open year-round, with the capability to heat the waves during the cooler months of the year. FlowRider brings an additional 58,400 gallons of water to the Resort's Adventure Water Park, which currently boasts 575,000 gallons of water FUN including the 110-foot waterslide 900-foot-long lazy river.
FlowRider Festival & Grand Opening Weekend Package
Friday, Oct. 5th – Sunday, Oct. 7th, 2012 package includes:

Complimentary access to FLOWRIDER FESTIVAL Grand Opening Event:
8 am - 10 pm on Saturday, October 6th
Games, contests, prizes and giveaways
All-day entertainment at the Adventure Water Park
Surfing exhibitions, including the "Wave Master" surf-off competition
Food and drinks served poolside all day (additional fee)
Evening fireworks show!
Two 30-minute FlowRider Sessions per room ($40 value)
Two Kierland FlowRider lifetime membership registrations ($30 value)
Rates from $125 per night
Additional weekend FlowRider Sessions available (additional fee)
Minimum two-night stay; rates and FlowRider ride times based on availability
Call 480-624-1202 during reservation hours listed to reserve a room and FlowRider rides or book online at http://www.ilovekierlandresort.com. Monday – Friday: 7:30 am – 5:30 pm; Saturday – Sunday: 8:30 am – 5:30 pm. Mention rate code: FLOWRIDE. Terms and conditions may apply.
About Kierland FlowRider
"Flowboarding" is not just a ride, it is a sport, a 21st Century alchemy that has the look of surfing, the ride of snowboarding, the tricks of skateboarding, and boards derived from wakeboarding. Thrilling to ride, thrilling to watch, and designed to handle wipeouts. The FlowRider's waveform is a proprietary composite membrane ride surface that is designed to absorb the energy of impacts. Flowboarders may wipe out, but they'll get back up again and again and again. Boardsports such as surfing, snowboarding, and skateboarding are skill-based activities that challenge riders to develop new tricks to emulate their heroes. The best part about the Kierland Flowrider is that no skill is required to flowboard for the very first time, thus making this latest boardsport appreciated by all ages. "Like" Kierland FlowRider on Facebook (facebook.com/KierlandFlowRider) or visit http://www.KierlandFlowRider.com for the latest FlowRider news and events.
About The Westin Kierland Resort & Spa
The Westin Kierland Resort & Spa is a four-diamond Resort located in the heart of "new" Scottsdale in the Sonoran Southwest. The Arizona Resort features 732 rooms, 55 suites and 32 casitas; nearly 200,000 square feet of indoor and outdoor function space; ten food and beverage venues; a full-service spa and fitness studio; an elaborate water park including a water slide and lazy river; Westin Kids Club®; and the 27-hole Kierland Golf Club. Kierland Resort has an award-winning Family FUN program with events and activities for individuals of all ages. As an added benefit, The Westin Kierland is adjacent to Kierland Commons and the Scottsdale Quarter; both are among the hottest shopping and dining districts in the Valley. The Resort is an ENERGY STAR Partner and was named the "Greenest Hotel in Phoenix" by the Arizona Hotel and Lodging Association and the Arizona Department of Environmental Services. For more information about The Westin Kierland Resort & Spa, please visit http://www.kierlandresort.com or call 480-624-1000. Recent enhancement information can be found at http://www.kierlandenhancements.com. All special events and offers can be found at http://www.ilovekierlandresort.com. Follow on Twitter and Facebook.
###