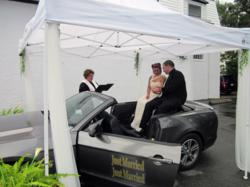 For some couples, a $30,000 wedding just isn't an option.
Quincy, MA (PRWEB) September 12, 2012
As the cost of the average wedding begins to creep upwards again, more couples are forsaking big, expensive celebrations and opting for the latest trend in wedding nuptials: the drive-thru wedding.
Once associated mainly with Las Vegas, drive-thru weddings are gaining popularity at a time when the average wedding costs approximately $27,000 – more than the median annual paycheck.
"For some couples, a $30,000 wedding just isn't an option," says Justice of the Peace Michelle Lydon, who performs drive-thru wedding ceremonies along with more traditional services at her chapel in Quincy, Mass. "Other couples just like the fun and spontaneity of driving up, getting hitched and driving off to start their new life together!"
That was the case for Catherine D'Addio, 27, and her fiancé Joshua Harger, 29, both of Medford, Mass. The couple recently was married by Lydon in a drive-thru ceremony in the Lydon Chapel parking lot.
"Josh and I had been planning our wedding for next year and then thought, 'Why wait so long?'" D'Addio says. "I Googled 'Justice of the Peace in Massachusetts,' found Lydon Chapel and fell in love with the idea of a drive-thru wedding!"
Her fiancé was equally enthusiastic about the concept
"We're both very spontaneous people and we go after what we want," she says. "Josh had been in Tennessee for three weeks on a job; he came home on a Friday and we were married the next day!"
D'Addio and Harger opted for Lydon Chapel's "Deluxe Drive-Thru" option that includes a weekend ceremony, a white wedding canopy over the car and a ride to their post-wedding dinner in a convertible. Total fee: $400. Yet Lydon Chapel offers even more affordable drive-thru ceremonies for as little as $99.
And in a difficult economy, such an affordable wedding option is proving too tempting for some couples to pass up.
"We've even had couples fly here from Europe," says Lydon, whose chapel is located just outside Boston. "They love the fact that they can have a Vegas-style drive-thru wedding – without having to fly all the way to Vegas!"
For more information on Lydon Chapel's drive-thru weddings, visit http://www.justicelydon.com.
###
Based in Quincy, Mass., Justice of the Peace Michelle Lydon has had the pleasure of performing more than 1,000 ceremonies -- each one as unique as the couples themselves. Justice Lydon believes your wedding ceremony should be as special as you are. Whether your plans include a formal chapel wedding, a drive-thru ceremony, an elopement or a sunset ceremony on the beach, Justice Lydon will work with you to create that one-of-a-kind ceremony you'll never forget. For more information, visit http://www.justicelydon.com.