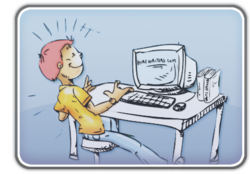 Now, for less than the price of a cup of coffee, someone can get a high quality piece of writing for their website within a few hours. - Greg Meyers, CEO of Wordployment, LLC.
Ann Arbor, MI (PRWEB) September 12, 2012
Wordployment, LLC, a content service provider based in Ann Arbor, Michigan, has just launched a new article writing service called, HireWriters.com. The new site is aimed at matching those in need of written content with talented writers to handle the job.
No matter what type of writing a customer may need done, HireWriters.com is designed to be the place to go for affordable writing. From articles to opinion pieces, product reviews to service descriptions, and much more, the site will cater to whatever clients need, quickly and inexpensively.
"Now, for less than the price of a cup of coffee, someone can get a high quality piece of writing for their website within a few hours," said Greg Meyers, CEO of Wordployment, LLC.
Meyers went on to say, "Those in need of content will have access to thousands of pre-screened native English speaking writers." In order to ensure quality to their clients, they only accept those who reside in the United States of America, Australia, Canada, the United Kingdom and New Zealand into the talent pool. In addition to this, they must also meet other strict criteria to write for HireWriters.com.
Getting started will be "very easy," according to Meyers. A simple sign-up form and article request process will have clients ready to post their first job within minutes. The low cost of entry (just a $10 minimum deposit) means that web site owners can check out the services of the site's pool of writers with very little risk.
Generally speaking, writers will start writing most articles within minutes, and Meyers notes "work will often be completed within 12 hours." As a writer only has 24 hours to complete the project, clients can rest assured that they will get a quick turnaround. Satisfaction is also guaranteed at HireWriters.com, as any article that does not meet the client's standards may be rejected. "If our clients are not satisfied for any reason, they do not pay," Meyers stated.
For writers, the site offers the chance to grab articles to work on as they have time, complete them for a brokered rate, and advance up the ladder as they do. With higher tier recognition, a better pay rate is earned. Since the work spans a variety of subjects and formats writers will find themselves constantly challenged and regularly greeted with new opportunities to prove their skills.
"Everyone here at Wordployment is very excited to show off what can be accomplished using Hire Writers. We've gone through great lengths to make sure that the site is absolutely a breeze to use for both clients and writers. After nearly a year of development, careful consideration of useful features and extensive testing; we believe our service will trump that of our competitors and will quickly become the Internet's leading destination for custom written content," said Brandon Harris, President of Wordployment, LLC.
About Wordployment, LLC.
Wordployment, LLC is a young, dynamic Internet firm located in Ann Arbor, Michigan that is dedicated to providing content solutions.
Wordployment, LLC can be found on the web at http://www.wordployment.com/ and information on the company can be gained by filling out a contact request at http://www.wordployment.com/contactus.html. Greg can be reached at (734) 794-3086 ext. 701.