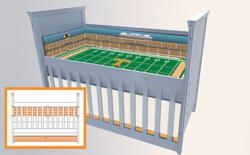 Imagine how cool it would be to fall asleep on the 50 yard line of your favorite College Stadium
Atlanta, GA (PRWEB) September 11, 2012
Pure Web is proud to announce the launching of the new website of Stadium Cribs. Stadium Cribs, with the help of Pure Web, is now able to showcase their growing line of custom baby crib bedding sets online. Stadium Cribs chose Pure Web to establish stadiumcribs.com because they needed a partner who could provide web services at the right price and on time.
Stadium Cribs manufactures custom baby bedding for baby cribs that are designed like the inside of select college football stadiums. All Stadium Crib products are made in the USA using the highest quality materials available to ensure long lasting bedding set for baby. The new Stadium Cribs Website will allow prospective customers to view current baby bedding sets and preview upcoming baby bedding sets. Stadium Cribs has baby crib bedding sets featuring colleges such as the University of Tennessee and Brigham Young University.
"As a college football fan and a Dad I was really amazed at the unique product that Stadium Cribs has created and I knew I wanted not only to help get it online but I also wanted one for my little football fan, imagine how cool it would be to fall asleep on the 50 yard line of your favorite college stadium?", Stephen Fortmann of Pure Web speaking about Stadium Cribs.
Stadium Cribs are members of the Juvenile Products Manufacturers Association and use realistic artwork that resembles the inside of college stadium complete with the field. All materials used in the baby crib bedding sets made by Stadium Cribs are chosen for safety, comfort, and durability.
About Stadium Cribs
Stadium Cribs Was founded in January of 2012 when two old friends decided that the world needed licensed custom designer baby bedding that both the mother and father adore. Marietta Georgia native Lyle Richardson and Kevin Kruger amongst many others have been working ever so diligently to bring Stadium Cribs to the fans and alumni that would without a doubt love our product. Stadium Cribs makes their entire baby bedding sets to order. Each set is custom sewn here in America. All ink used in our printing is of course certified baby safe. Our level of quality in sewing, printing and embroidery is based on a commitment by everyone involved in the process of making this product to do impeccable work, as the safety of people's children has always been and always will be a major concern of our company.