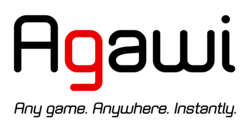 Menlo Park, Calif. (PRWEB) September 10, 2012
Today Agawi, the cloud-based games streaming platform for "any game, anywhere, instantly," is announcing a collaboration with Microsoft that will enable a variety of games on Windows 8 devices, utilizing the Windows Azure platform for streaming from the cloud.
Agawi, formerly iSwifter, recently launched its version 2.0 to offer cloud streaming of all forms of games content—including social Facebook games as well as mid-core and hardcore titles—to all devices. Popular AAA games will be made available in the coming months for instant play on Windows 8 devices with no additional work required by developers, who are encouraged to contact the company at Agawi.io to be included in the developer partner program.
"Game developers want to focus on building great games, not worrying about back-end issues like scalability and platform management. With Windows Azure, Agawi 2.0 enables developers to make high-performance games easily accessible across devices with the high-quality graphics and virtually instant game downloads," said Walid Abu-Hadba, Vice-President at Microsoft. "For gamers, Windows 8 delivers a fast, fluid and no-compromise experience that opens the door to exciting new form factors."
"We are delighted to work together with Microsoft to bring Agawi cloud-based game streaming to Windows 8 via the Windows Azure platform," said Peter Relan, Executive Chairman of Agawi.
Agawi will be demoing their cloud-based games streaming platform on Windows 8 devices at the Cloud Gaming USA event in San Francisco, September 11-12, where Agawi will also be delivering a keynote speech. Social game developers are encouraged visit the Windows Dev Center to learn more about Windows 8.
For more information on Agawi, visit: http://agawi.io/
About Agawi:
Agawi, formerly iSwifter, recently launched the 2.0 version of its cloud gaming platform and provides its partners with content streaming solutions for all devices, from mobile to PC to TV. Agawi stands for "any game, anywhere, instantly" as its mission to offer all types of games, from casual to hardcore, across all devices.
The cloud gaming platform works with leading game publishers, online retailers, OEMs and network operators to deliver quality gaming experiences anytime, anywhere. It is committed to providing high-performance, scalable and cost-effective solutions to a variety of business models through its state-of-the-art streaming technology.
Based in Menlo Park, California, Agawi was founded by Silicon Valley veteran entrepreneurs and spun out of YouWeb Incubator in 2010.