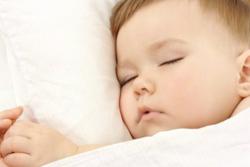 The great news is that the crying doesn't last long when parents are consistent with the sleep training.
Chicago, IL (PRWEB) September 12, 2012
In a recent study published in Pediatrics on September, 10, 2012, researchers concluded that crying during sleep training does not cause long term psychological issues or weaken the bond between parent and child, and in fact improves the sleep issues in children and helps the mothers when depression was a factor.
The Australian researchers followed 225 children from age 7 months through age 6 to see whether crying during sleep training affected the children in the long term. Babies participating at 7 months experienced parent-reported sleep issues. One group (122 children) underwent sleep training--either "camping out" (parent stays in room while baby learns to fall asleep independently) or "controlled comforting" (parents respond to baby's cry in intervals)--both of which involve some amount of crying. The control group (103 children) did not have any formal sleep training.
Researchers concluded that the children who underwent sleep training as infants did not show any adverse effects in regards to the emotional health, behavior, stress or parent-child bond. They discovered mental health benefits in children who had had the sleep training through 24 months of age. The study also showed that there were fewer reports of depression in moms who had undergone sleep training for their children for two years following the training.
Certified Infant and Child Sleep Consultant, Kim Schaf, M.A.T., agrees that the process of learning how to sleep will not be harmful in the long run, with the benefits of consolidated sleep far outweighing the temporary crying. "Falling asleep independently is a learned behavior and it takes a few days for babies to figure out how to do it on their own," said Schaf. "Crying is their only form of communication, and they are expressing the fact that they aren't comfortable (yet) falling asleep without mom feeding or rocking them to sleep. The great news is that the crying doesn't last long when parents are consistent with the sleep training." In the end, babies who learn to fall asleep independently will have an easier time at bedtime and be able to self-soothe in the middle of the night.
About Sleep Training Solutions
Sleep Training Solutions, a leading infant and child sleep consulting company, provides education and training to parents in the Chicago area and across the country through private and semi-private consultations and seminars. Sleep problems that can be resolved include issues with bedtime, night wakings, naptime and early rising in infants and children up through age eight. Find Sleep Training Solutions on Facebook and follow on Twitter @sleepbetterbaby.
About Kim Schaf
Kim Schaf, M.A.T., is the Founder and President of Sleep Training Solutions and the Midwest Regional Director (USA) for the Association of Professional Sleep Consultants (APSC). After completing an extensive training and mentoring program with one of the world's most respected child sleep authorities, she became a Certified Infant and Child Sleep Consultant and offers expert guidance to resolve behavioral sleep issues for families across the country. She provides community education on child sleep issues, leading workshops at preschools, day care centers, pediatrician offices and new mom groups. She is also available for corporate speaking engagements. Kim has a Master of Arts degree in Teaching and is a member of the American Sleep Association, the North Suburban Children's Business Network and the Neighborhood Parents Network. She lives in a northern suburb of Chicago with her husband and two small children, both of whom are excellent sleepers.
Photo credit: © Serhiy Kobyakov | Dreamstime.com