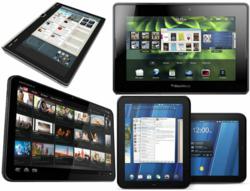 Orangeville, ON, CA (PRWEB) September 11, 2012
Doyen Internet Marketing Services is now offering services to the authoring community to meet the content development needs of the rapidly expanding 'enhanced' and 'interactive' ebook markets.
Thanks to the advent of Amazon's 'Kindle' Reader (among other ebook reader technologies) the sales of digital ebooks has actually eclipsed those of hardcover books in both the Amazon and Barnes&Noble online bookstores.
While the Kindle is a black and white text reader, with almost no graphic capabilities, the next generation of tablets are now here and the competition for the market is ferocious.
The advent of graphics capable tablets has opened up two new ebook formats that could only have been read on desktop computers until recently. Now that they can go 'mobile' the demand has escalated. The two new formats include: 'Enhanced ebooks' which add multimedia features to the basic text copy such as video, audio and other rich media (enhanced ebooks remain in the traditional 'linear' format of reading with a structured beginning and end) and 'Interactive ebooks' which are more like a game with multiple possible pathways for the user to explore. Interactive ebooks are non-linear in nature and the user does much more than just scroll-and-click while interacting with the content and storyline.
What does this mean for the authoring community? A lot!
An author today can effectively develop a new ebook and market it on equal footing with the big players. Authors are no longer constrained by the good-old-boys at the major publishing houses and they can let their imaginations run free. The stigma that was once attached to 'self-publishing' (not to mention the cost to the author) is long gone. In fact the publishing houses are now at a bit of a disadvantage against the faster, more nimble, self-publishing community.
The non-fiction genres that will see the greatest growth opportunities with the new technologies are self-help, business training programs and any kind of scientific manuals. All types of learning are greatly enhanced by the inclusion of multiple sensory inputs and the ability to explore freely (that's why the internet is so popular).
Fiction authors will also see dramatic new markets unfold for them in the children's book genre and the science-fiction/fantasy field.
While Apple's 'iPad 2' still leads the field in the tablet market, a couple of new Android based competitors have popped up that are giving Apple a run for their money. Google's 'Nexus 7' and Amazon's 'Kindle Fire' (soon to be Kindle Fire 2) are both very strong platforms and both players have the marketing firepower to vie for a share of the growing tablet marketplace. Another up-and-comer to watch is Barnes and Noble's 'Nook Tablet'.
The software required to make these new forms of ebooks is also within reach of most authors, both cost-wise and technology-wise. While Adobe's 'Digital Publishing Suite' may be a bit daunting for most authors on the cost level and the steep learning curve level, it does have all of the tools needed to produce professional level enhanced ebooks on par with any existing publisher. Apple's 'iBook Author' is a fair bit easier to use than DPS but its output is restricted to iOS based tablets. 'Ebook Maker' is probably the best entry level software for this type of application.
As we move deeper and deeper into the Digital Age no one knows what form of Media star will be next. With self-publishers now selling in the millions online, those who jump onto the next wave of publishing could become giants.
Doyen Internet Marketing Services brings new and creative marketing methods to the book authoring and information product development communities. Doyen maximizes online sales and branding recognition for its digital product producing clients.
To learn more about new opportunities in the Digital Authoring field visit Doyen's Website.