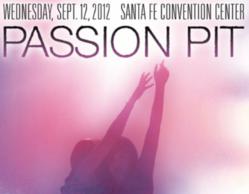 Santa Fe, New Mexico (PRWEB) September 10, 2012
The opening night act of the 2012 Santa Fe Reporter Arts Festival is 'Passion Pit'. Hailing from the east coast, the band is sure to kick off the 12 day event in Santa Fe, New Mexico with a bang. Scheduled to play from 7:30 to 11 p.m. at the Santa Fe Community Convention Center, 'Passion Pit' is a five member band that knows how to get the crowd fired up. Cambridge, Massachusetts based American electropop band 'Passion Pit' came together as a band in 2007. The band is made up of the following members: Michael Angelakos (keyboards, lead vocals); Xander Singh (samples, synthesizer); Ian Hultquist (guitar, keyboards); Nate Donmoyer (drums); and Jeff Apruzzese (synth bass, bass). Minus Angelakos, the rest of the band members went to the Berklee College of Music in Boston, Massachusetts. This event featuring 'Passion Pit' and the entire Santa Fe Reporter Arts Festival event are on Santa Fe's premier on-line visitor guide SantaFe.com
The band's hit song "Sleepyhead" has received over 2,500,000 views on Youtube™.
Ticket Info:
Tickets: $29
3 Easy Ways to Buy Tickets -
1. Call (505) 988-1234 - Box office representatives are happy to assist
2. Stop by the Lensic, Santa Fe's Performing Arts Center
211 W. San Francisco St., Santa Fe, NM
3. Location and Seating Chart Plus Tickets Can Be Purchased Online at TicketsSantaFe.org
About SantaFeArts.com: The Santa Fe Reporter Arts Festival
Experience the arts in Santa Fe with twelve days of great music, local art, film, dance, live performances, theater, food, drink and more.

Presented by Heath Concerts, Meow Wolf, T-Cubed Productions, Team Everything, After Hours Alliance, MIX, Jade Presents, Southwest Roots Music, Joe Anderson Werks & Co-Sponsored by Hutton Broadcasting, SantaFe.com and SITE Santa Fe
Where: Santa Fe, New Mexico @ the Santa Fe Railyard, The Lensic, the Santa Fe Convention Center, Santa Fe Opera, Santa Fe Sol, Stats Nightclub, CinemaCafe, Santa Fe University of Art & Design, Rouge Cat and other local venues.
When: September 12 – 23, 2012
Interested Santa Fe Reporter Arts Festival attendees are encouraged to look for the official festival program inside the September 5 issue of the Santa Fe Reporter and at participating venues starting September 12.
About SantaFe.com:
SantaFe.com provides locals and visitors to Santa Fe alike the most current interactive platform for events, music, arts, business, dining and lifestyle. SantaFe.com is a division of Hutton Broadcasting, located at 2502 C. Camino Entrada, Santa Fe, NM 87507
Contact Information:
Scott Hutton
SantaFe.com / Hutton Broadcasting
http://www.santafe.com
(505) 471-1067 (Media inquiries only, please)