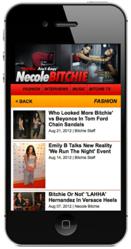 mobiManage launches custom mobile platform for wordpress and Joomla websites'
Scottsdale, AZ (PRWEB) September 11, 2012
The new mobiPlugin and mobiData Syndication allows developers and owners of Wordpress and Joomla websites to integrate easily into the mobiManage mobiSmart platform. The mobiManage platform can now take existing Wordpress and Joomla data and push this to custom mobile web sites and mobile applications. This allows customers to continue to update your website as you do now while automatically updating your mobile sites and applications.
Built for easy management of mobile web sites, the mobiSmart platform provides one central platform to manage mobile websites, iPhone and Android applications, tablet products all integrated with existing website data. Also included in the mobiPlugin is host of new marketing features, including mobile banner ads, mobile surveys, coupons, loyalty cards, GEO location services and more.
The goal for mobiManage was to make it easier for customers to manage and develop great looking robust mobile sites through their existing CMS or CRM systems while still providing advanced mobile marketing services.
"With this new Plugin, customers will have complete freedom to extend and maintain their brand and products on all of their mobile assets with their existing Wordpress and Joomla system," said Carl Huskey, Director of Development for mobiManage.
"mobiManage continues to provide seamless real-time integration to our customers CMS and CRM systems. We recognize the desire for our customers to update mobile sites and apps from one place and to be able to use their existing interactive investments," said Doug Ralston, President of mobiManage. "With our new Plug-in and data syndication products we can now increase that footprint to Wordpress and Joomla customers."
mobiPlugin information, available now and starting as low as $200 per module. Plug-in includes integration of comments, feeds, mapping and GEO tagging more to come. Simply call mobiManage at 888-355-6624 Option 1 or email info(at)mobiManage(dot)com
About mobiManage
Based in Scottsdale, Ariz., mobiManage designs, develops, manages and markets mobile websites and mobile applications for clients in industries including travel and tourism, retail, home building, automotive and more, giving customers a richer and more enjoyable way to reach and engage with mobile users. mobiManage offers customized, turn-key mobile solutions that help take its customers' content and marketing to new levels. Founded in 2008, the mission of mobiManage is to provide customers with premium, market-focused mobile websites, applications and services that are easy to manage while ensuring brand and market identity. Clients include Orlando Convention and Visitors Authority, Cold Stone Creamery, Taylor Morrison Homes, Schumacher Mercedes-Benz, Prudential and more. To learn more, please visit http://www.mobimanage.com.