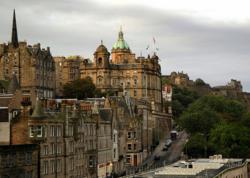 (PRWEB UK) 11 September 2012
The Scottish capital of Edinburgh comes in as the number two most expensive European destination in terms of its lodging costs. That's the finding of a new survey from CheapHotels.org. The survey specifically looked at hotel rates for 30 popular locales in Europe during the period spanning June to August 2012.
Spending the night in Scotland's capital city cost summer 2012 travelers an average of 87 GBP, or 109 Euros. Even at that price tag they could only afford the cheapest available hotel room at a minimum 2-star accommodation. Stockholm, in fact, was the only destination to top Edinburgh at an average rate of 111 Euros nightly. Coming in at the number three spot was Venice. There, the average cost to stay overnight during the same timeframe was 103 Euros.
One of the main contributors to the Scottish capital's high hotel prices was the Edinburgh Festival Fringe. Known as the world's largest arts festival, the annual event sells close to two million tickets over its 25-day August run. Because it draws such a huge crowd, hotel rooms within the city become few and far between.
"During the Festival Fringe, travelers are hard-pressed to find a room below GBP 150 per night. Considering the month of August only, Edinburgh is by far the most expensive destination in Europe, and the festival certainly plays a significant role in that," comments Barbara Adams from CheapHotels.org.
The following table shows the 10 most expensive destinations in Europe based on their lodging costs. The prices shown reflect each city's average rate for the cheapest available double room (minimum 2-star hotel) during the summer time period spanning June through August 2012.
1. Stockholm – 111 Euros
2. Edinburgh – 109 Euros
3. Venice – 103 Euros
4. Zurich – 101 Euros
5. Oslo – 94 Euros
6. Copenhagen – 93 Euros
7. London – 91 Euros
8. Nice – 78 Euros
9. Paris – 73 Euros
10. Dublin – 71 Euros
For the full rankings of the survey, visit http://www.cheaphotels.org/press/europe-2012.html.